Lightning Boy DiVision: A tube DI box for more sonic character
If you're looking for a DI Box with a real sonic character, using the world's smallest vacuum tube, then the Lightning Boy DiVision could be for you. 
Lightning Boy DiVision
Lightning Boy Audio, purveyors of boutique recording equipment, audio transformers and DI boxes, has just launched the DiVision DI Box. "Oh woo, yay, yet another DI box" I can hear you cry. You should take another look at this one, though, because the DiVision is unlike any other DI box you may have seen before.
Utilising both a custom transformer and a tube gain stage, the DiVision is capable (judging by the video demo at least) of serving up some really meaty tone. Ah, the tube gain stage, let's talk about that, shall we? See, Lightning boy hasn't gone for the obvious ECC83/12AX7 tube here, no siree!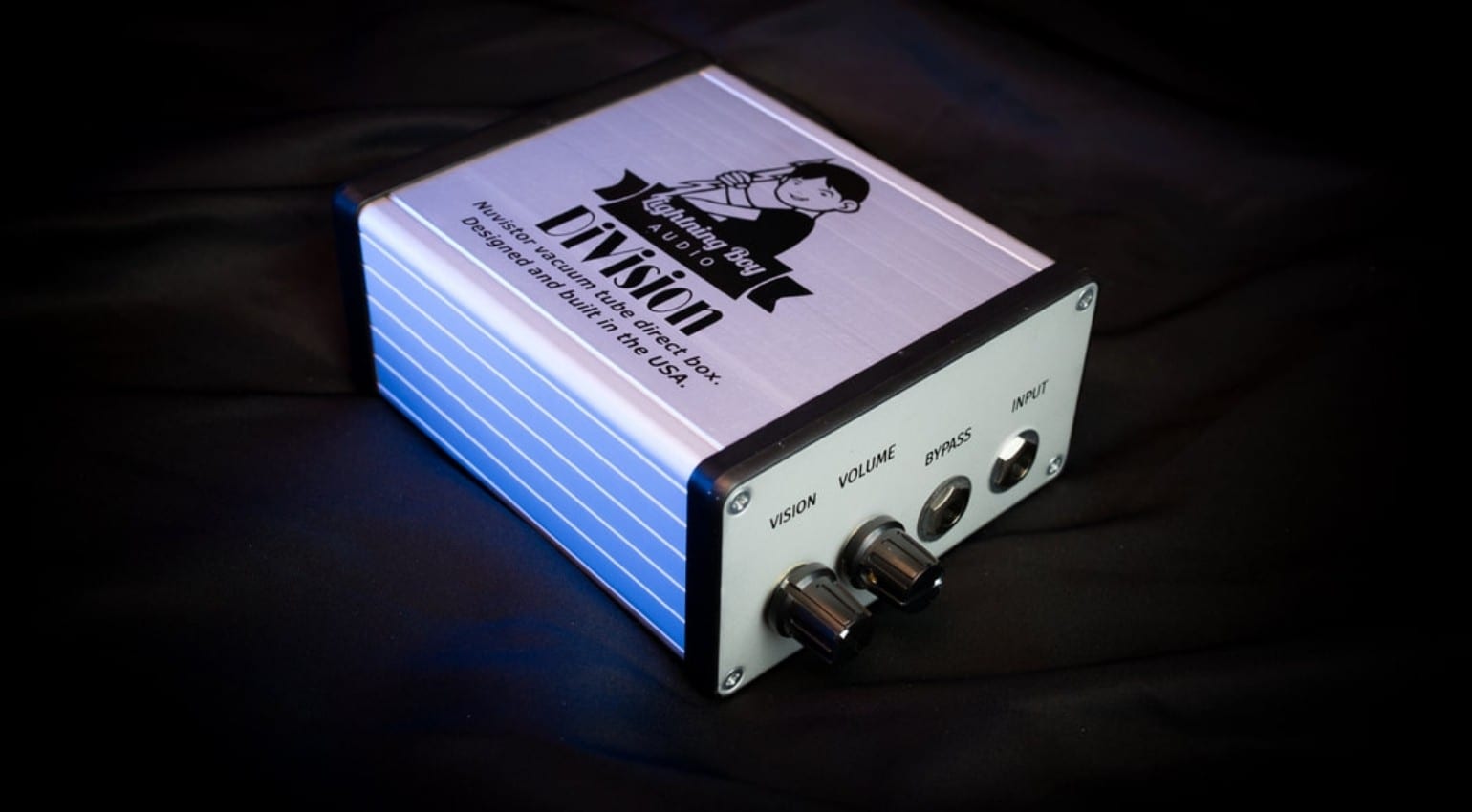 Nuvistor Powered
Lightning Boy has taken the unusual decision to use a Nuvistor tube in the DiVision. Now, if you're never heard of a Nuvistor tube before, don't worry, there's a good reason for that! In the late 1950s, when the Nuvistor was launched, it represented the cutting edge of miniaturised electronics.
Little larger than the size of a thimble, Nuvistors are, none the less, little tiny vacuum tubes (thermionic valves). Aside from the reduced size you'll also find that Nuvistors run cooler, use less power and last a lot longer than regular tubes. So why didn't they take off in a big way?
The Nuvistor turned out to be a bit of an evolutionary dead end, as the 1960s saw the transistor make the Nuvistor rapidly obsolete. We musicians, of course, love a bit of tube warmth and grit in our audio. The Nuvistor is a quirky but entirely apt choice for a compact, 9V powered tube DI Box. As far as I'm aware, Nuvistors are no longer in production; however, you're unlikely to need to replace them for a very long time.
The DiVision seems a very likeable concept and I can see it being a valuable tool in a studio situation. If you fancy one, get in quick as Lighning Boy Audio is only making 68 signed and numbered editions.
More Information
Video
Image Sources:
Lightning Boy DiVision: Lightning Boy
A pair of RCA Nuvistor tubes.: Wikimedia (author Foxiest)