JBL Eon One Mk2: The Ultimate Busking PA System?
The JBL-Eon One Mk2 could well be the most well designed, battery operated PA system we've ever seen! Do you need something lightweight, portable and powerful? Seemingly JBL has the solution.
JBL-Eon ONE Mk2
When you think of big-name brands in PA equipment and loudspeakers, JBL is up there with the best. You may already be familiar with JBL's Eon range of active PA speakers including the Eon One portable speaker. If you looked at the Eon One and thought "nice idea, but I need something a bit bigger and louder", then JBL has a proposition for you.
Enter the JBL Eon ONE Mk2. The first thing you'll notice is a completely different form factor. Column PA systems have become super popular, no doubt typified by the original Bose L1 and subsequently copied by everyone else. A column array design like this should ensure you get great coverage from a single point source. They're also, easy to disassemble and move from location to location, ideal for those on the go.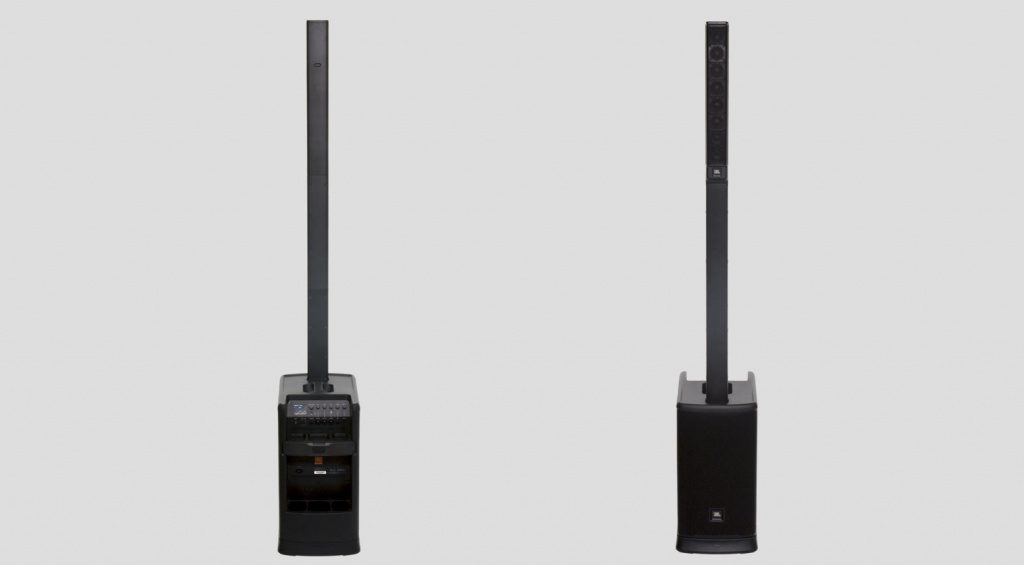 Battery Powered & Cleverly Designed
Perhaps the standout feature of the JBL-Eon ONE Mk2, is its ability to be battery powered. The battery packs are interchangeable and actually form part of the column array itself. As an accessory, you can purchase a dual charger dock and spare packs. This means you could conceivably run the Eon ONE, mains free, all day long which is super impressive and could be a unique selling point in itself.
If we take a look at the specs of the Eon ONE, we find a 10″ woofer coupled to 8, 2″ tweeters forming the array. I'm going to ignore the meaningless peak power output (when will manufacturer's stop quoting these stupid figures?) and instead commend the 400w RMS power rating. It should be noted that on battery power the power output is throttled back a little; you will achieve the highest SPL when powered directly from the mains.
Additionally, you'll find a really well designed, comprehensive mixer section with multiple inputs. There's multiple signal processing courtesy of other Harman group companies such as Lexicon and dbx. Finally, you can control all of this via your smartphone and the JBL Pro Connect app.
It's undoubtedly a premium-priced piece of kit; with that though, you get a really well-designed solution that will be a boon if you're performing on the move.
More Information on JBL EON One Mk2