iZotope RX 8: Interesting new features and a few improvements
Deal
iZotope is back at it with the release of RX 8 and RX Post Production Suite 5. There are new features for music and post-production, as well as content creation – besides the usual improvements.
iZotope RX 8
Let's take a look at RX 8 first. IZotope has taken two years since version 7. As usual, RX 8 is available in three versions (Elements, Standard and Advanced). Most of the new functions and updates are included in the Standard and Advanced versions. Here's an overview:
In all three versions you will find the revised De-hum, which removes annoying hum even more intelligently. Horizontal scrolling lets you work faster with the restoration software, which is sure to please users. And new color schemes are also available.
New features in the Standard and Advanced versions
First, there is the improved Batch Processor, which now directly displays bit depth, sample rates or the playing time. It can simultaneously export in several formats as well. Modules for processing can be arranged in any way, and the interface can also be scaled in size.
Guitar De-noise is geared specifically to the requirements for recording guitar tracks and "cleans" them in various "problem areas". In the video, you can watch a few before and after examples that demonstrate this quite well.
Music Rebalance now works even better and offers solo functions, automatic splitting into stems, and improved algorithms. This is not only useful for balancing mixes afterwards, but also helps when creating edits or remixes.
Loudness Control offers optimized control over the loudness of the project. Depending on the application, there are different requirements.
The improved Composite View lets you edit up to 32 individual audio tracks at once – previously only 16 were possible. Let's see how many there will be in version 9!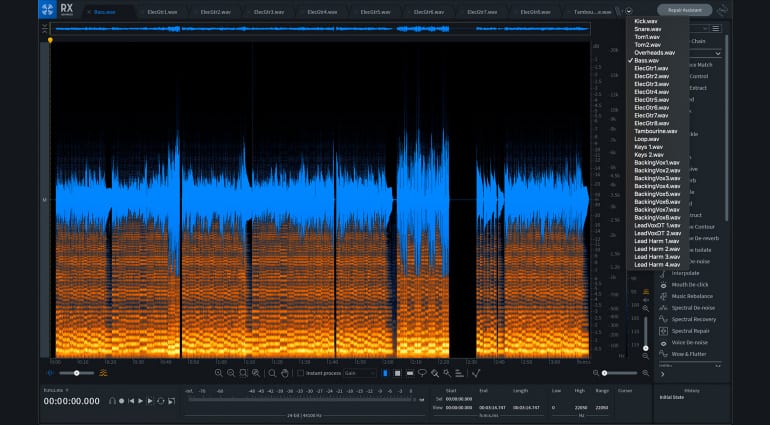 Exclusive in RX 8 Advanced
Spectral Recovery is based on machine learning and virtually expands missing frequencies in recordings. This makes language more understandable. Recordings with mobile phone or data-reduced files, such as MP3s are given some shine and polish. Of course, there are also a few presets that you can use to tackle common problems.
Wow & Flutter doesn't create a "buzzing" sound here, as is desired with some other plug-ins – no, RX 8 eliminates precisely this effect.
Dialogue Isolate isolates speech in recordings even more precisely from distracting background noises, even with drastic settings.
iZotope RX Post Production Suite 5
The RX Post Production Suite 5 is also new. If you want to be prepared for every imaginable task in the field of post production, you will get the following products:
RX 8 Advanced
Dialogue Match
Neutron 3 Advanced
Nectar 3 (including Melodyne 5 Essential)
Insight 2
RX Loudness Control
Relay
Tonal Balance Control 2
Symphony 3D and Stratus 3D from Exponential Audio
All-Access Pass for the Video Training Tool Groove 3 (for one year)
Specification and prices
iZotope RX 8 runs on macOS (10.13.6 or newer) and Windows 10. The plug-ins are available as VST2, VST3, AU and AAX, only in 64 bit.
There is an introductory offer until October 14th and you pay 96 euros for Elements instead of EUR 129, EUR 289 for RX 8 Standard instead of EUR 399 and EUR 969 for RX 8 Advanced instead of EUR 1199. A crossgrade of every paid iZotope / Exponential Audio product to RX 8 Standard costs EUR 194 from our partner Thomann instead of 399 euros. The RX Post Production Suite 5 is available for EUR 1459 instead of EUR 1999.
More information
Video
Image Sources:
izotope-rx-8-composite-view-770x425: iZotope