Nord Keyboards introduces the new Stage 4
We knew it was a Stage 4 keyboard from the teasing photo, and now Nord has confirmed it, and we have all the details.
Stage 4
It wasn't very hard to tell from the dimly lit photograph that Nord was about to release a Stage 4 instrument. Let's see how many of my predictions (below) came true.
The Stage series of keyboards combine all of Nord's best technology into something of an ultimate instrument. You've got a huge piano layer, an organ layer and a massive synthesizer layer with virtual analogue, FM, wavetable and sampling. Each section has a dedicated control section making it an extremely powerful and versatile machine.
What's new?
The Stage 4 has had a front panel overhaul. The new design has dedicated LED faders for each layer and Layer Scenes for switching between setups at the touch of a button. There's a powerful new effects section, versatile pedal options and a top-class triple sensor keybed in three sizes.
The Piano has a new and enhanced collection of Grands, Uprights and Electric Pianos that digs into the new Dynamic Compression and Unison modes. The Organ introduces physical drawbars across all models with LED indicators for a complete overview. The Synth section remains largely unchanged although they have, as predicted, doubled the sample memory to a modest 1GB.
Nord has expanded the Effects section to offer a complete suite for each layer. This adds a new Pump effect or side chain simulation, a Spin effect and many new variations of Reverb, Delay, Amps and Modulation effects.
Three Models
As with the previous versions, there are three Stage 4 models. As they all have physical drawbars now the only difference is in the size of the keybed. The Stage 4 88 has a fully weighted 88-key Triple Senor keybed with aftertouch. The Stage 4 73 has the same over 73 keys, and the Stage 4 Compact goes with a semi-weighted waterfall keyboard version over 73 keys.
All three will be available soon for €4,899, €4,599 and €4,299, respectively.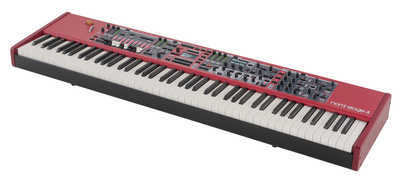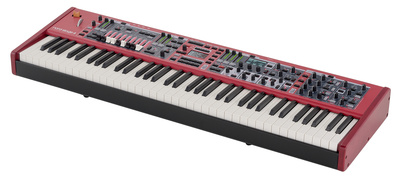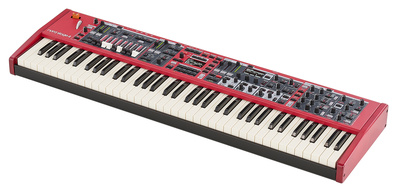 Clavia Nord Stage 4 Compact
Original article from 14th February on the teased image.
The Nord Stage 3 is weirdly the fifth generation of their ultimate performance instrument. It contains all of Nords best technology and should be all a musician will ever need – until the new version comes along. The Stage 3 has the Nord Lead A1 Synth Engine with sample playback, the Nord C2D Organ with drawbars, a 2GB Nord Piano and a bunch of effects.
The front panel is smothered with inviting knobs and sliders for a very hands-on experience. The whole thing, in the trademark red, does look pretty extraordinary.
So what could a new and upgraded version have that improves upon this ultimate stage piano?
Well, the dimly lit photo doesn't give us a whole lot of detail. There are physical drawbars which were only available on the Stage 3 Compact. The full-sized versions had sort of virtual drawbars. The photo seems to suggest that this has both forms of drawbar control. The two screens are still visible, and we seem to have a few bars of green LED metering.
Other upgrades will probably be in the sample library department. The Stage comes with a measly 480MB of Nord Sample Library 3. The more recent Nord Piano 5 supports the new Sample Library 4, which ups the sample space to 1GB, and maybe we'll see some increased polyphony.
The Stage 3 is already a packed and exciting instrument, so it's going to really interesting to see what Nord has in store for the Stage 4. They need to work on their teasing though – too easy!
Image Sources:
Nord Stage 4 88: Nord
Nord Stage 3: Nord
Nord Stage 4 tease: Nord