Introducing Reason Studios Objekt Modeling Synthesizer
Reason Studios Objekt is a new modeling synth plug-in for your Reason Rack that is also available as VST3/AU/AAX instrument in any DAW system.
Modeling synth plugins like Logic's Sculpture and AAS Chromaphone have been around for years, but it will be interesting to see what the Reason Studios approach is like in this area.
Reason Studios Objekt
If you're not a modeling synthesis expert just yet, Objekt comes with a library of 500 patches including bells, mallets, cymbals, percussion, string instruments, drums, and textures that you can use as building blocks to learn the different aspects of the plugin.
You can also play Objekt with Players or build it into Combinator workflows with customized keyboard splits and effects chains. From the offset, the plugin is centered around three sound generators in the form of one modal and two object resonators.
Here you determine the frequency and timbre of the material you are modeling, while the initial attack of the sound is shaped with the exciter section on the left.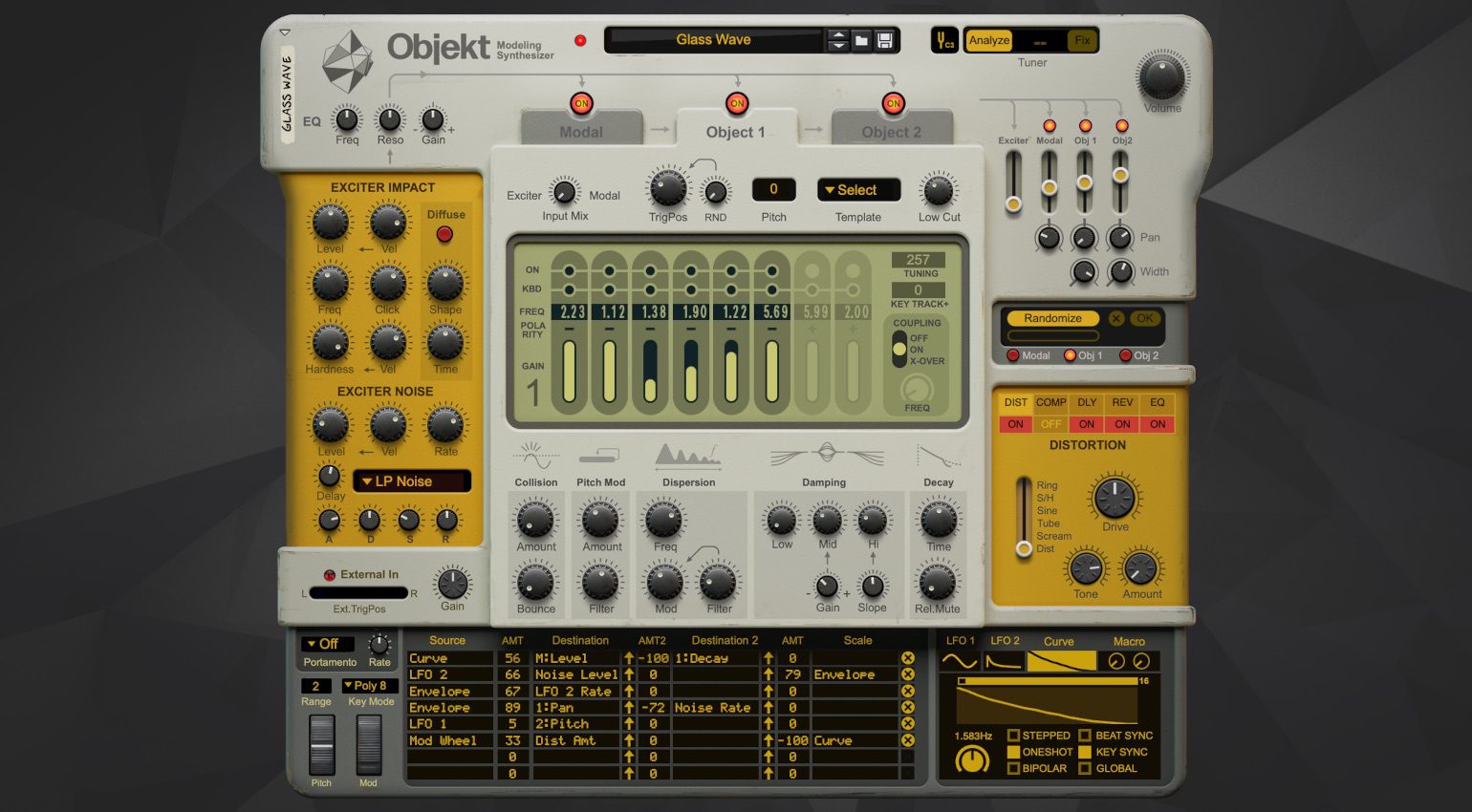 There is a mixer section for balancing the signals between the excitor and resonators and panning them across the stereo, as well as an extensive modulation matrix for shaping the sound.
In addition, you also get a built-in effects section with distortion, compression, delay, reverb, and EQ for adding animation and tonal shaping. The rear panel gives you access to external audio inputs and CV I/O for interfacing with other devices in your rack.
Overall, Objekt looks like an extremely detailed design and should be a very exciting instrument both for Reason heads and users of other DAWs.
Pricing and availability:
Objekt requires Reason 12 and is free to all Reason+ subscribers. Meanwhile, the perpetual license is available for $99/€109.
More about Reason Studios Objekt:
Videos:
Note: This article contains affiliate links that help us fund our site. Don't worry: the price for you always stays the same! If you buy something through these links, we will receive a small commission. Thank you for your support!
Image Sources:
reason-studios-objekt-01: Reason Studios