Heavyocity Mosaic Tape: cinematic textures derived from analog tape
Deal
We here at Gearnews have a soft spot for Heavyocity's hard-hitting virtual instruments. Sometimes you just want to hammer out a massive rhythm and enjoy the sheer volume of it. And Heavyocity stuff is our top pick for that. Now, the wildly creative developer, and maker of the Damage 2 king of kling-klang percussion suites, has added Tape to its Mosaic series of VSTis. As the name suggests, this instrument is the outcome of analog tape-mangling mayhem.
Heavyocity Mosaic Tape
Mostly cinematic in nature, though perfectly suited for all kinds of production in need of boom and bap, Heavyocity's Mosaic Tape hovers around altered strings, gritty keys, tuned percussions, and vocal pads – all treated with creative tape processing. It includes over a hundred snapshots (sounds) in an effort to further establish analog tape as a creative force in modern composition and sound design.
Each of the available virtual instruments has its own set of foundational elements which can be combined and layered into bespoke textures. Grit, warmth, and attitude are the vibe definitions here. Looking from the bottom up, there are three audio channels where you load some of the readily available sounds. These go straight into a mixer, which contains ENV, EQ, and FILTER sliders on the left; and DRIVE, GATE, SPACE sliders to the right.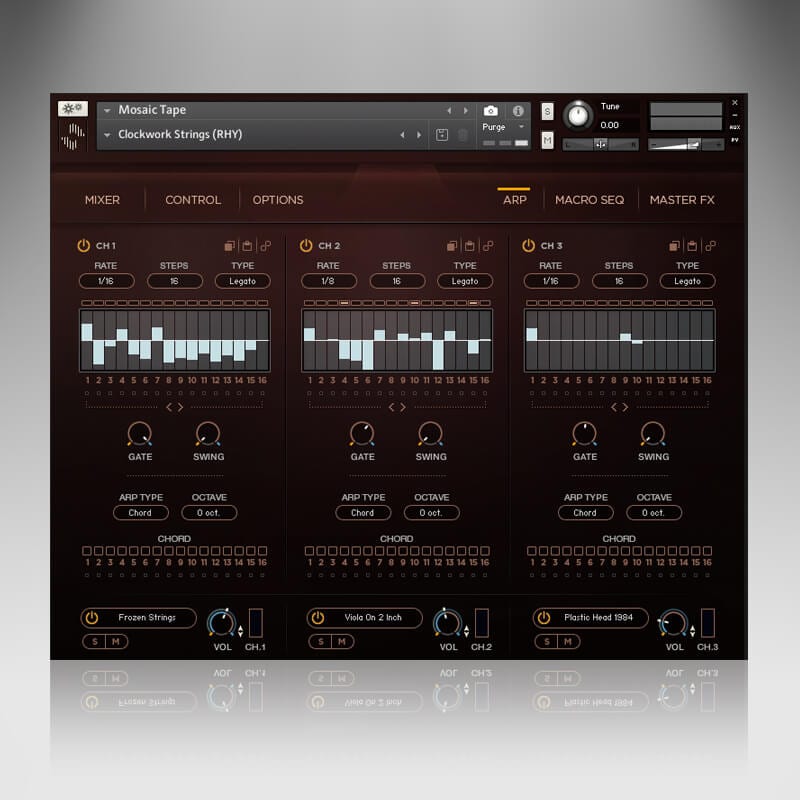 Above the visualizer, there are MIXER, CONTROL, OPTIONS, ARP, MACRO SEQ, and MASTER FX tabs where you can flesh out your audio. Separate 16-stepped arpeggiators are available for each audio channel, featuring RATE, STEPS, TYPE, GATE, and SWING parameters. The OPTIONS tab contains all your MIDI mappings. The three layers can be split across the length of your MIDI controller, complete with defined velocity and pitch bend ranges.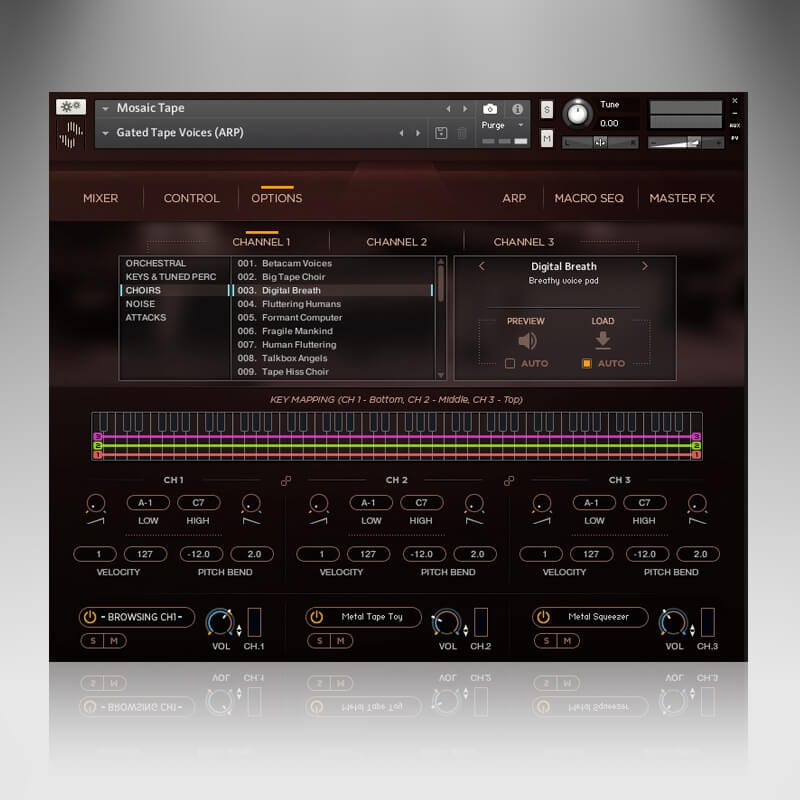 Instrument Breakdown
Mosaic Tape is contained within a single .NKI Kontakt instrument. There are 106 presets derived from 113 different sources spread across 1264 samples. Available at your disposal are 23 orchestral sounds, 30 keys and tuned percussion sounds, 10 choirs, 36 noise layers, and 14 attack layers. That's plenty of content and should keep you busy for a while.
Price and availability
Mosaic Tape is being sold at an introductory price of USD 99, down from USD 119. Owners of other Mosaic series instruments enjoy an additional 20% off with an exclusive coupon code. You'll need Native Instruments Kontakt 6.4.2 Player or Full, and it comes with NKS support out of the box. This way owners of Native Instruments' Machine and Komplete Kontrol controllers get the added ease of pre-mapped parameters.
More information
Video walkthrough
Image Sources:
Mosaic-Tape_Interface_ARP: Heavyocity
Mosaic Tape - Options tab: Heavyocity