Deal: get IK Multimedia Lurssen Mastering Console at 65% off!
Expired
Approximate reading time: 2 Minutes
IK Multimedia seems to be in a Spring mood. Until March 24, the software and hardware manufacturer is taking a hearty 63% off its Lurssen Mastering Console mastering software for PC/Mac, as well as in-app purchases for the iOS app. This brings the price down to EUR 60 from EUR 160.
Lurssen Mastering Console Deal
The mastering software is made in collaboration with engineers Gavin Lurssen and Reuben Cohen off of LA's Lurssen Mastering, Inc. It features a mastering chain recreating both studio hardware and mastering techniques used by the engineers themselves.
We are talking an exact emulation of the studio's mastering chain, which includes tube and solid-state EQs, limiters, de-essing and compressors. The chain is strung together according to the actual connection schematics for the studio facility and offers a peek into the workflow of these lauded engineers. Lurssen Mastering Console also includes 40 mastering templates for different genres to get you rolling, set up by Gavin and his peeps.
A novel Push knob lets you home in on specific song parts with the provided EQs, providing potential for automation as in "riding" the settings with the flow of the song. Another useful feature is the waveform editor where you can visualize changes to your audio, loop parts, and add automation.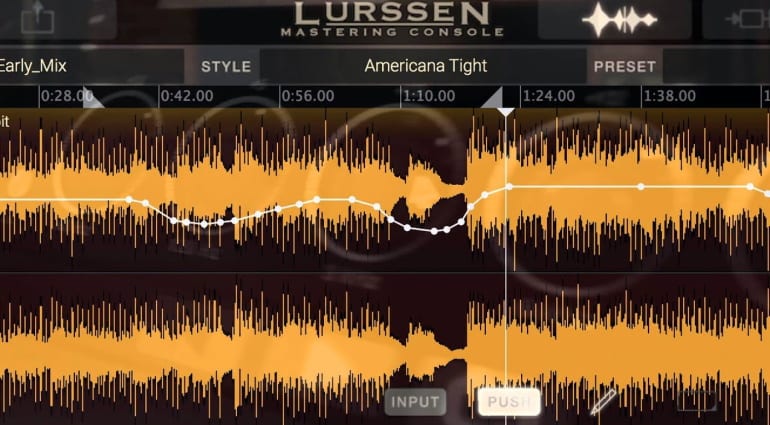 And then comes the universal iPhone/iPad app which lets you preview your masters anywhere you take your device to. So testing on different systems and tweaking on the spot becomes a worthwhile possibility.
Availability
The PC/Mac version works in standalone, AU, VST 2, VST 3, and AAX plug-in formats. The iOS version works on iPhone and iPad. You can download it for free and try it out in demo mode, then unlock the Play/Process and HD Engine functionality as in-app purchases. The latter lets you master and export for Apple Music, in addition to other compressed or lossless formats.
More information