8 more cheap pedals every guitarist needs to try
Overdrives, reverbs, tremolos, and more for around £60 each
Last week we looked at 8 of my favourite cheap pedals, all of which I own and use on a regular basis. Today I'll be adding another 8 pedals that I think all guitarists should try at least once in their lives. This list is all about getting great tones from the best value-for-money effects pedals out there.
Another 8 cheap pedals every guitarist needs to try
For many guitarists, great tone is a large part of the jigsaw puzzle that makes up their guitar sound. Some are looking for tones that cover many sonic bases, whilst others are seeking to emulate classic guitar tones found on their favourite records.
In this list, I add a few alternatives to my original list of 8 cheap pedals, and also fill in a few gaps I left open last time. Just like in my last post, the aim is to keep around the £60 price point. Ssurprise: there are some great-sounding pedals among this lot…
Harley Benton American TrueTone
At only £27*, the Harley Benton American TrueTone overdrive pedal is truly a budget pedal and well under our £60 threshold. But don't let the price fool you. This drive pedal is a real sleeper and has bags of great overdrive tones on tap. You get controls for Level, Voice, and Drive, plus a three-band eq section.
DAW friendly
What I really like about this pedal, and its brethren, is the built-in cab sim, which allows you to go straight into a DAW and attain fantastic recorded guitar tones without any hassle. Or, you could run it straight into a Helix and get analogue drive tones with zero modelling involved, giving your rig a nice warm drive tone for a very small outlay of cash.
This orange overdrive pedal can run from either a 9 volt battery or external power supply. Its siblings, the British TrueTone* and AC TrueTone*, based on Marshall-style crunch and Vox AC 30-esque drive respectively, also sound great, and are at the same price point.
TC Electronic MojoMojo
Good old TC Electronic always manages to emulate and create some excellent effects pedals, and the MojoMojo is no different. What you are essentially getting is a Fulltone OCD with two eq knobs, instead of one. This pedal comes in at only £42* and therefore, easily earns a place on this list.
The pedal is true-bypass and is built like a tank. It has two different voice settings that are accessed by a mini toggle switch, and will run from a 9 Volt power supply or battery. One famous user of the MojoMojo, a certain Paul Gilbert, has one on his pedalboard to this day. That in itself is a testament to how good this overdrive pedal is. It also stacks beautifully with his signature JHS PG-14 FET overdrive pedal, proving just how versatile it can be.
Mooer Trelicopter
Next up is the Mooer Trelicopter and I love this little black mini pedal. I have one on my board and it's a great optical tremolo with a lovely organic tone. Plus, at only £47 *, it is very, very affordable. For such a nice compact tremolo pedal, I think it's a steal at that price.
The pedal is true-bypass and takes up very little space on your pedalboard. The Speed, Bias, and Depth controls are all you need to dial in nice, pulsing tremolos. It's perfect for slow blues, or even rock, if you want to add a hint of movement to your solos.  As it is a mini pedal, there isn't room for a battery compartment and it requires an external 9 volt power source.
Behringer UV300 Ultra Vibrato
The Behringer UV300 Ultra Vibrato is basically a clone of the Boss VB-2, and at £21.80*, it's also the cheapest pedal on this list. Its controls for Depth, Rate, Rise, and Mode mimic those of the original discontinued VB-2 pedal. The Mode switch lets you select between Unlatch, Bypass, and Latch settings. The UV300 will run from either a 9 volt battery or an external power adapter.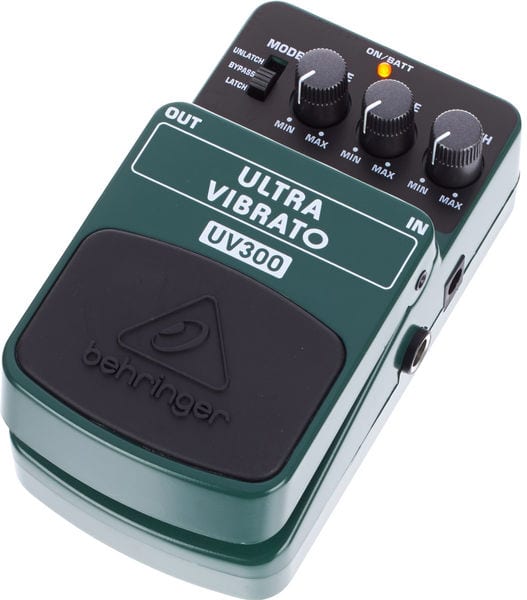 Behringer UV300 Ultra Vibrato
Considering that the recent Boss Waza Craft version of the pedal, the VB-2W * costs nearly ten times more, this little Behringer pedal is a real bargain.
Mooer ShimVerb
For this listing, we might have to go £1 over budget. The Mooer ShimVerb comes in at £61*, and is a digital reverb pedal with Room, Spring, and Shimmer settings. The pedal has a neat and simple layout, consisting of Decay, Level, and Colour controls.
If you're looking to add a little space and ambience to enhance your guitar tone, you can't go wrong with the ShimVerb. The circuit is true-bypass and the pedal is small enough to fit on even the most crowded pedalboards. However, as with most mini pedals, it needs an external 9 volt power supply to run.
Behringer VT999 Vintage Tube Monster
This massive tube-based overdrive pedal is one to watch out for. It does require a little love, but if you treat it right, it rewards you with huge drive tones. At only £51*, it definitely deserves a place on our list. And yes, there is a real vacuum tube driving the pedal's core tone.
The Trick
If you do buy one of these tube-based pedals, you may find the stock tube, a Bugera branded 12AX7, sounds a bit muddy. So the trick here is that you need to replace it with a decent tube. This can be a bit of a rabbit hole if you aren't sure what you are looking for, but with a little Google search, you shall find the answers you seek. I'd also suggest you treat it more like a preamp. It makes more sense that way, and I usually 'goose' mine with a boost pedal in the front. Something like the TC Spark*, which is on my original cheap pedal list.
It has controls for Gain, Master, Treble, Mid, and Bass, as well as a built-in Noise Gate switch with threshold dial on the rear, which helps tame the hiss. The pedal is big and meaty, and requires its own supplied external power supply to run. It is also one of the modding communities' favourites to tweak and adapt, so if you like to tinker then this behemoth tube-based drive is certainly one to check out.
Boss SD-1
The Boss SD-1 was my first ever pedal. This little yellow overdrive pedal is responsible for much of the sound of rock music throughout the '80s and '90s. It would deserve a place on any list, but at only £53* it comes well within our budget. It is super versatile, and I always preferred it to its competition, the Ibanez TS9. To my ears, the SD-1 sounds brilliant when paired with a Marshall-style tube amp.
The pedal uses asymmetrical clipping to create its drive tones, and is used by pro musicians all across the world. It really is that good.
The SD-1 has controls for Level, Drive, and Tone, and a bullet-proof construction that will last you many, many years, as it rewards you with singing sustains and crunchy tones. This is one drive pedal that all guitarist should really try at least once in their lifetime, and there is always room for one on my pedalboard.
TC Electronic 3rd Dimension Chorus
For the last pedal on the list, I have chosen the TC Electronic 3rd Dimension Chorus which comes in at a very wallet-friendly £33*. It is based on the Boss Dimension C pedal and provides an '80s style "motionless" chorus. The original has been long since discontinued, and the re-released Waza Craft version costs five times the price of this TC clone.
4 Buttons
The effect has four buttons which you depress to access the chorus voices, each using analogue BBD circuitry. There are 16 different presets that you access by combining the 4 buttons in different ways. And a secret setting when all four are in the up position.
It will run from a 9 volt battery or external power supply, and is true-bypass. If you want an '80s style chorus, then for the price this pedal is hard to beat.
*Affiliate links
Image Sources:
Harley Benton American TrueTone: Thomann
tc electronic MojoMojo: Thomann
Mooer Trelicopter: Thomann
Behringer UV300 Ultra Vibrato: Thomann
Mooer Shim Verb: Thomann
Behringer VT999: Thomann
Boss SD-1 Overdrive: Thomann
TC Electronic 3rd Dimension Chorus: Thomann