Top 5 Studio Gear in 2018 by Eventide, Neve, SSL, PreSonus, Zoom
Approximate reading time: 3 Minutes
2018 saw some big names in the audio industry reminding us of their decades-old legacy with fantastic new hardware. At the same time, perfectly good gear like digital mixing desks that used to cost a lot more now costs a fair bit less. It's safe to say we're quite spoiled for choice when it comes to rounding out a studio space, no matter its size and budget. Which is all-around great – because there's more and better-sounding recordings to make. Here's our selection – or more like a wishlist – of the top 5 gear to add to your studio this year (there's something for everyone here…)
Eventide H9000 effects processor
The pinnacle of a legacy! Eventide still has what it takes to release a no-holds-barred hardware effects processors in the era of plug-ins, and make it a success. Powered by four ARM chips for eight times the processing power of its predecessor, the H9000 is a no-holds-barred beast, able to process multiple tracks at once with up to four stacked effects that cover nearly any situation imaginable. Just don't ask how much it costs. Okay, okay, – it's USD 7000 for the front panel controls variant, which is really the one you'll be dreaming of…
Rupert Neve Designs Shelford Channel Strip

The RND Shelford Channel Strip is 2018's Rolls-Royce mic preamp. It combines the best of Neve's legendary 1073, 1064, 1081, and 2254 modules, giving you a preamp, inductor EQ section, diode bridge compressor, and crunchy saturation – just like Rupert made them, but now with modern components and contemporary build quality. At USD 3945, this is a luxury purchase that's still priced very sensibly considering you are getting the best of Neve's 50-year audio legacy in a single rack unit.
SSL Fusion

Designed with the modern hybrid analogue/digital studio in mind, Fusion contains five "completely new" analogue colouration tools to dial in, as SSL says, the "perfect combination of (…) tonal character, weight and space" to your tracks. Among them is an all-new phase-shift shelving EQ, SSL's first new EQ design in over 25 years. Other highlights include a harmonic enhancement saturation circuit, a High Frequency Compressor for reducing harshness, and Stereo Image Enhancer – a true analogue Mid-Side circuit that manipulates the Side signal for widening and spatial processing. I want one. Badly. Actually, make it two!
PreSonus Quantum 4848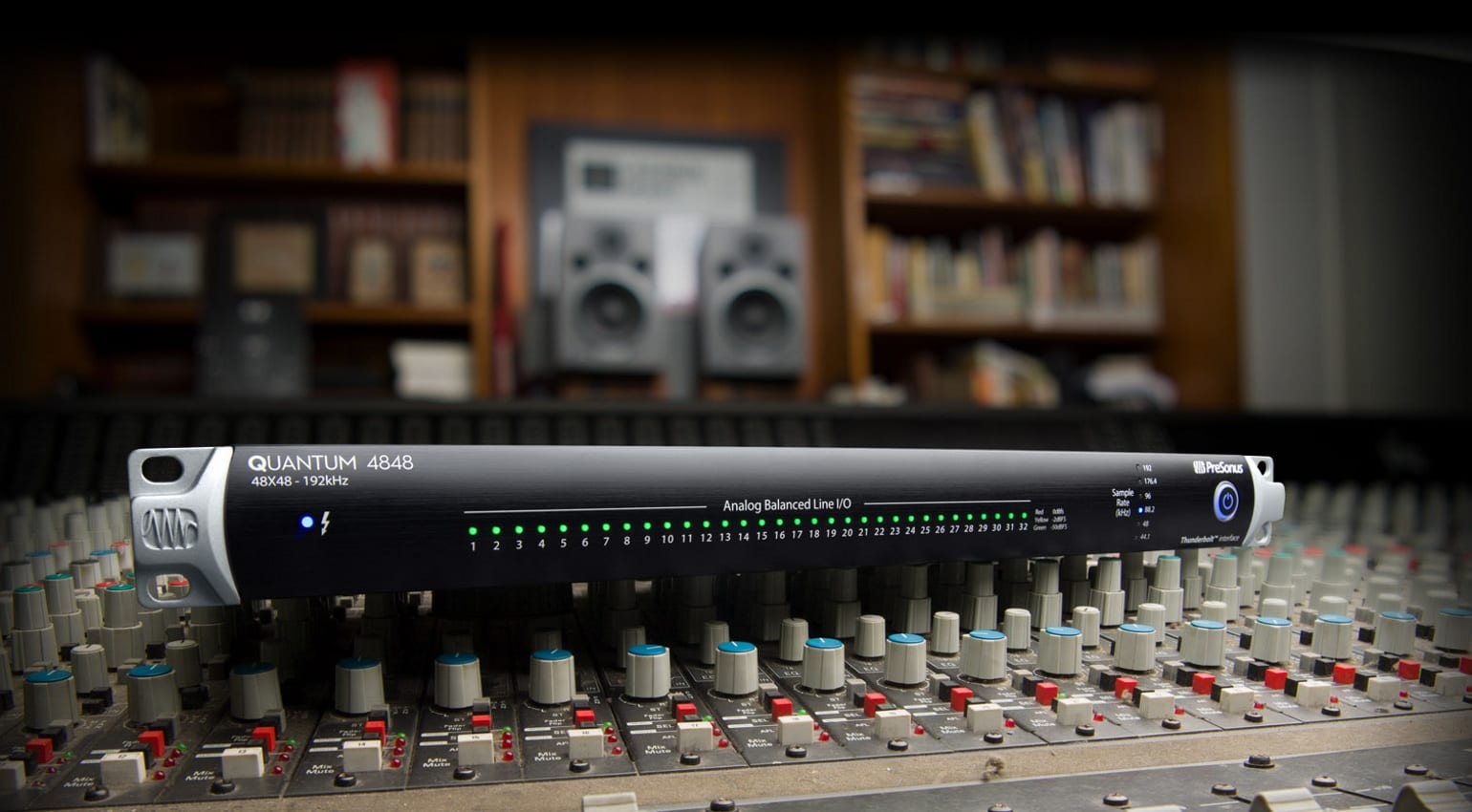 Targeting professionals with a mixed analog/digital setup, the 4848 is a 48in/48out Thunderbolt 2 interface slash AD/DA converter armed with 32 ins and outs over DB-25 and an additional 16 channels of ADAT optical I/O for a total of 48 audio channels at 24-bit, 192kHz sample rate. Further on, the Pipeline XT tech lets you "insert" and manage any piece of outboard gear into your session like a plug-in, with automatic latency compensation. All that at just USD 1500! I can't help but wonder if PreSonus is desperate for sales, or is truly able to deliver this kind of technology at such an aggressive price and still turn a profit. Crazy!
Zoom LiveTrak L-20
The L20 is the top dog in Zoom's LiveTrak series of digital mixing and recording consoles. The L-12's big bro has 22 audio recording tracks, that is 20 inputs and 1 stereo mix, and records at up to 24-bit/96kHz on an SD card. The recordings and live input can be spiced up with two effects busses covering 20 classic digital effects like chorus, delay, and reverb. Unfortunately, the effects, EQ, overdub, audio interface, and A-F fader modes aren't supported in 96kHz, so you'll have to dial back the sample rate. Six individual monitor mixes are supported for musicians and each input has a 3-band mid-parametric EQ. The 16 mono inputs also have a single-knob compressor. Like most digital consoles, the LiveTrak L-20 also functions as a 22-in/4-out USB audio interface. But here's the crunch: all this costs only EUR 999. Not bad, eh? OK, there's no true 96kHz support, but 48kHz is more than enough for most, I think.
What's your Top 5? Let us know in the comments below!