TAD with new 12AY7 tubes for 2016: Low-noise premium bottles of tone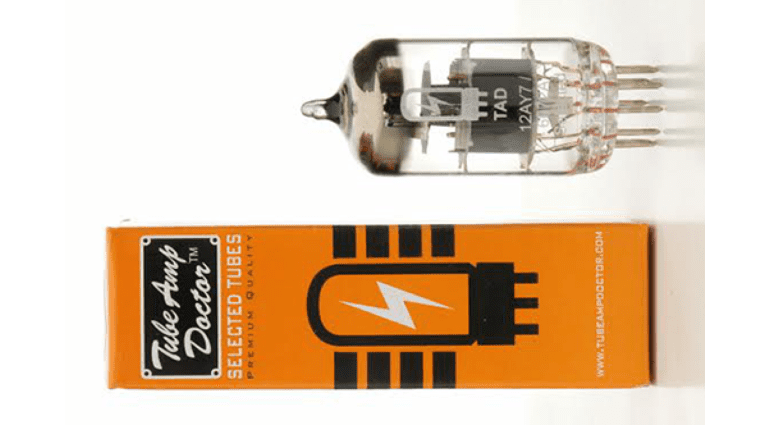 TAD 12AY7 low gain and low noise tubes. · Source: http://www.tubeampdoctor.com/en/shop_TAD_Premium_Tubes_TAD_Pre_Amp_Tubes_SELECTED/12AY7_6072A_TAD_Premium_Selected_396
Tube Amp Doctor are based in Worms, Germany and have for many years supplied high-end replacements and spares for valve amps. At NAMM this year they announced a new line of premium valves.
The company specialises in providing high-end replacement parts for tube amps. This has gained them quite a reputation in the guitar community and I have used them myself on many an occasion to source valves and parts for my own amps. They are always very helpful and efficient whenever I have contacted them myself, plus they really know their stuff.
So, this year they announced two new low-gain preamp tubes: a 12AY7 – RT007 and a 12AY7 Premium -RT070. Each unit has been chosen for its tonal performance and low-noise qualities. The thing is that these tiny little glass vacuum filled bottles are one of the key stages in a tube amp's preamp and gain stage. It pays to use good quality ones. Lots of amps will ship with cheap Chinese manufactured tubes, which are okay but just not that great and probably cost the manufacturer a few pence each. Vintage NOS (New Old Stock) tubes like Mullards can cost you hundreds and so aren't always a viable option for everyone.
When a company like TAD come along with an affordable modern solution for us guitarists, it's worth taking a look.
Warning: If you have never changed preamp tubes on a valve amp then please seek expert advice before diving into the back of your amp. It's easy to damage an amp and in some cases to kill yourself if you do not know what you are doing (especially with older vintage amps). As capacitors can store lethal voltages that will stop your heart beating.
Price: EUR €29.80 (RT070) and EUR €22.90 (RT007)
Claims from the Tube Amp Doctor's Site
Highgrade low-noise selection (RT070) or Premium low-noise selection (RT007)
Enriched tonal texture
Added headroom
Superb sweet spot for improved tone control
Added warmth and musicality
Individually tested and approved