Rhodes V8 Pro Review: The first official Rhodes piano plugin.
In this Rhodes V8 Pro Review, we take the very first and only officially licensed Rhodes piano plugin for a spin. V8 offers you a mind-bending array of tweakability and every famous Rhodes sound you can imagine; however, does it sound authentic and is it a good value for money? Gearnews' Bob Malkowski dives in to find out…
The Rebirth of Rhodes
The Rhodes (or Fender Rhodes) piano is undoubtedly one of the all-time "hall of fame" keyboard instruments. Originally introduced in the 1960s, the Rhodes is an electro-mechanical keyboard instrument; in other words, it relies upon actual moving, mechanical parts. You'll have undoubtedly heard the characteristic sound of the Rhodes piano; it's appeared on records from Herbie Hancock, The Doors, Portishead and countless others.
The advent of electronic keyboards, notably the Yamaha DX7, sounded the death knell for the original Rhodes and it was discontinued in the 1980s. In 2021, the original Rhodes electromechanical piano was reintroduced; I was able to play one of these new Rhodes Pianos at Superbooth in 2022. Having played a number of Rhodes pianos over the years, it was amazing to finally play a brand new Rhodes.
However, as befits a low-volume, hand-built instrument, prices for a new Rhodes piano don't come cheap. You'll pay around £8000 or more for a new Rhodes, depending on specification. Even a used, vintage example will set you back a minimum of £2000 and upwards. If only there was a more affordable, more accessible way of getting the authentic Rhodes tone…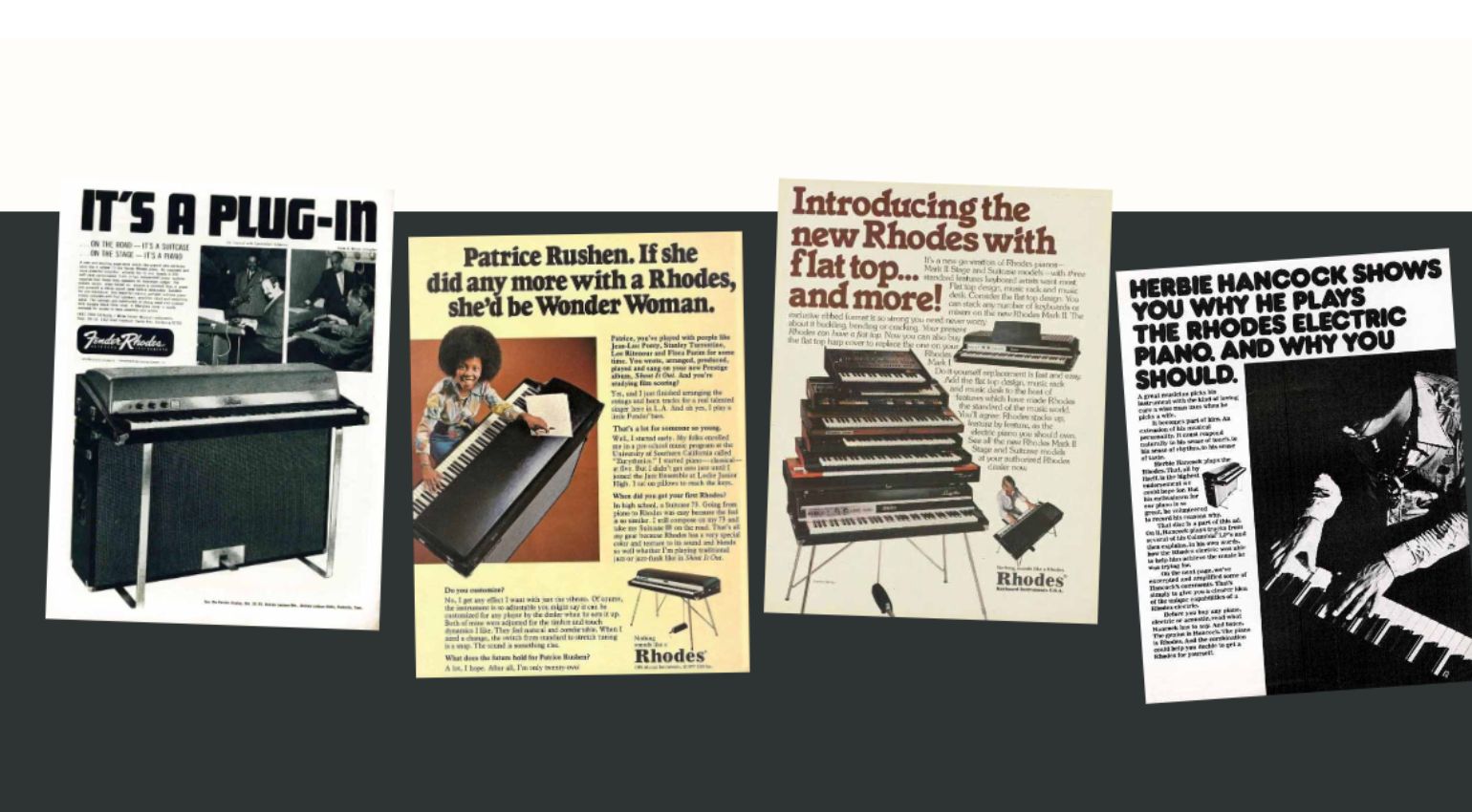 Rhodes V8 Pro Review
There have been many digital recreations of the Fender Rhodes over the years; some of them have sounded pretty good, while others have fallen dramatically short of the experience. Finally, however, we have the very first (and so far only) official Rhodes piano plugin. The Rhodes V8 plugin is an extensively multi-sampled plugin based on the new Rhodes Mk8. There are two versions, Rhodes V8 and Rhodes V8 Pro and it's the latter of the two I'll be reviewing here. The key difference is that V8 Pro offers "a forensic level of control and customisation".
Before commencing my Rhodes V8 Pro Review, I had to download the installer package, which is sizeable. Thanks to the huge sizeable library you'll be downloading around 24Gb of content! Make sure you have plenty of spare HDD space and make a brew while you're waiting! I found authorisation easy and straightforward using Ableton Live as my host of choice. There's no standalone option but Rhodes V8 will run under any DAW supporting VST2, VST3, AU or AAX formats.

Playing Impressions
Loading up V8 Pro, I navigated straight to the preset for a pristine, perfect-condition Rhodes piano and started playing. 15 minutes later I realised I should probably be looking more closely into the features and conducting a proper review! I've played quite a few original Rhodes over the years and tried many different plugins. The greatest compliment I can give to Rhodes V8 is that I quickly forgot I was playing a plugin. The software sounds amazingly good, but more importantly, it feels really good too.
All the characteristic chime, bite and growl of the original Rhodes is here in spades. Even using a very cheap controller keyboard, I was really taken by the touch sensitivity of Rhodes V8 Pro. I particularly loved the mechanical noises of the sampled instrument, something often overlooked (or perhaps mistakenly dialled out). The clanks and clunks of the Rhodes mechanics are all a crucial part of the sound and experience. I'd happily put Rhodes V8 in a blind listening test against a real recorded Rhodes, it sounds *that* good.
This being the Pro version, I decided to try out some of the more advanced features on offer. With such a huge sample library, V8 Pro gives you an unbelievable level of tweakability. You can adjust, on a note-by-note level, aspects such as tuning, pickup distance, damping and so on. You can then save these adjustments as part of a recallable profile, in effect creating your own customised virtual Rhodes.
There are a number of preset profiles included, and these will be more than acceptable for most users. The profiles and presets cover a gamut of tones: from aggressive and chimney Dyno-Rhodes type sounds through to spooky and broken detuned textures. This certainly adds an additional unique layer to the Rhodes experience.
Effects and Amps
Most players of electro-mechanical keyboards, like the Rhodes, will have experimented with running their piano through effects and amplifiers. V8 Pro gives access to effects such as BBD delays, chorus, phaser, and so on, There's also a choice of four amp models (including the suitcase piano amp)  and two mic options. How useable are these additions though, and do they justify the extra price?
Objectively, all the effects and amp models sound great; they're the perfect additional seasoning to the base Rhodes tone. However, there are some obvious issues, for me. It appears the amp tone was captured as part of the sampling process, along with the mic setups. This means there's no additional amp tone or mic positioning adjustment possible within the plugin. With that said the captured tones sound superb; I found myself leaving the Fender Twin and condenser mic combo left switched in permanently and just got to playing!
Good Value?
And so I have to ask the inevitable question of value. Rhodes V8 is £149.95 while Rhodes V8 Pro, as reviewed here, is £249.95. We're in an age where cheap hardware recreations have somewhat skewed our perspective on what's a good price to pay for software. Does Rhodes V8 Pro represent good value?
It's my opinion that the basic Rhodes V8 instrument is probably the best sounding and playing virtual Rhodes out there. So in that respect, the basic Rhodes V8 plugin offers good value. The next question then, is does the additional features of the Rhodes V8 Pro justify an additional £100 on top?
I think, realistically, if you're running Rhodes V8 in a DAW then you may already have access to your own suite of plugins and amp models. In this case, the effects and amps section V8 Pro offers may not be a significant sway. However, the ability to create custom, virtual Rhodes profiles is a very unique proposition. I can see sound designers and film scorers finding something special in the custom profiles and tweakability on offer here.
Either way, Rhodes V8 remains the best-sounding and best-playing virtual Rhodes I've tested to date.
More Information
Image Sources:
Vintage Rhodes Adverts: Rhodes
pb: Plugin Boutique