RCF intros M 20X & M 20XD compact live mixers with DSP and networking
Prominent Italian audio brand RCF has introduced two new M-series desktop-format live mixers. Both models – the M 20X and M 20XD – have 5-inch colour touchscreens and five encoders, built-in DSP, motorized faders and remote-controlled preamps housed in rugged chassis.
RCF M 20X and M 20XD
The new M 20 mixers have 20 analog inputs with 16 mic preamps on 8 XLR and 8 combo inputs, in addition to 2 TRS inputs and a stereo input on a mini jack (at last!). There are 10 analog outputs – 8 on XLR and 2 on TRS, on top of 2 main outputs on XLR. All outputs can be freely routed.
On the rear, you will find an AES-EBU stereo output, an USB audio interface and a secondary USB port for connecting controllers, Wi-Fi dongles or any 5-volt USB device. There's also a LAN port for wireless remote control. M 20XD also has a Dante interface for audio over IP networking, hence the 'D' in its product name.
Each channel strip is equipped with hi-pass filter, gate, 4-band parametric EQ, and compressor. Four Z.CORE FX engines handle effects like reverb, delay modulation and a Real Time Analyzer to check the frequency spectrum of any audio channel. The main mix bus has a 30-band graphic EQ, while each of the outputs gets an 8-band parametric EQ. Compression and limiting are available on all outputs.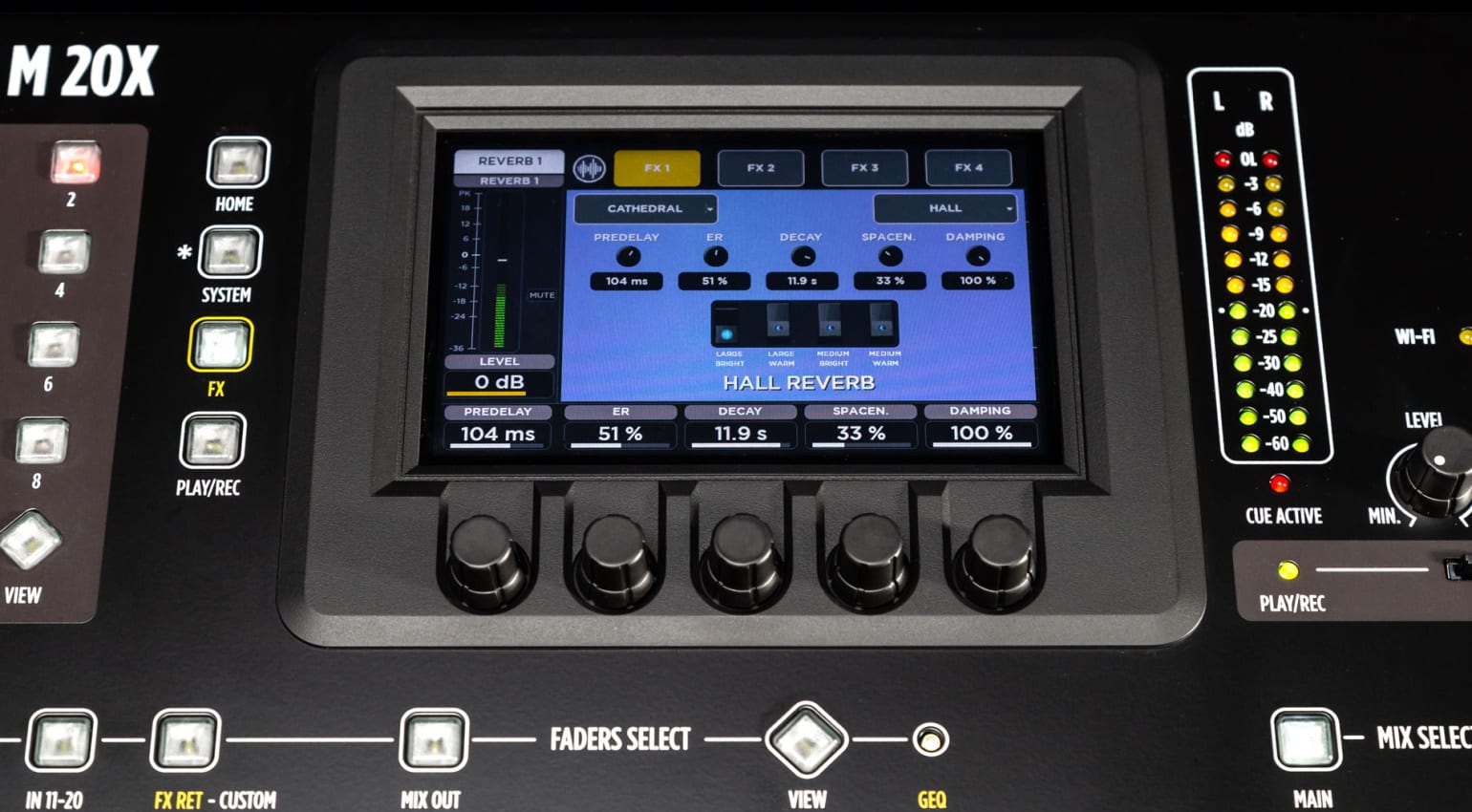 The mixers support USB recording as well as SD card playback and recording – that's 20 tracks at 24-bit/48kHz.
All in all, these look like very powerful tools for studio and live use. An intelligently designed mixer is always a wonderful sight to behold, and the M 20X/M20 XD look like plenty of thought and technology went into them.
Pricing on the X version is reasonable, at €1,395.
More information
Video
Image Sources:
m-20x-ENHANCED-FX-ENGINES-IMAGE: RCF