Produce-RNB Wave: multi-effects plug-in slaps audio around
Expired
Produce-RNB is the kind of developer name that makes it perfectly clear who its products are aimed at. The Wave multi-effect plug-in capable of reshaping sounds, tracks and mixes into something pretty much new. However, the results are (though not limited to) along the lines of Drake-style "underwater vocals", or the kind of dope-y and haze-y textures prevalent in modern rap music. Here's more about Wave's audio enhancing and destroying capabilities.
Produce-RNB Wave
The plug-in contains several different effects: saturation, chorus, delay, reverb, gate, phaser, bit-crushing, waveshaping and filters. The resulting sound can be shaped using an EQ and compressor. The creative arsenal is operated from a reasonably uncomplicated interface. In the middle of the GUI, there is a large control – the multi-effects transformer. It lets you adjust the intensity of the modulation coming from 8 modulators going to the effects. The modulation can be synchronized to the DAW tempo.
The audio material runs through a total of three filters (high / low / band-pass). You can also activate or disable each filter and the associated modulation individually, or have them work according to your own rhythm. It is also possible to switch the individual effects on and off while a submenu lets you dive into precise adjustments for each. The purpose of the crossfader controller seems to be adjusting the Dry / Wet mix ratio.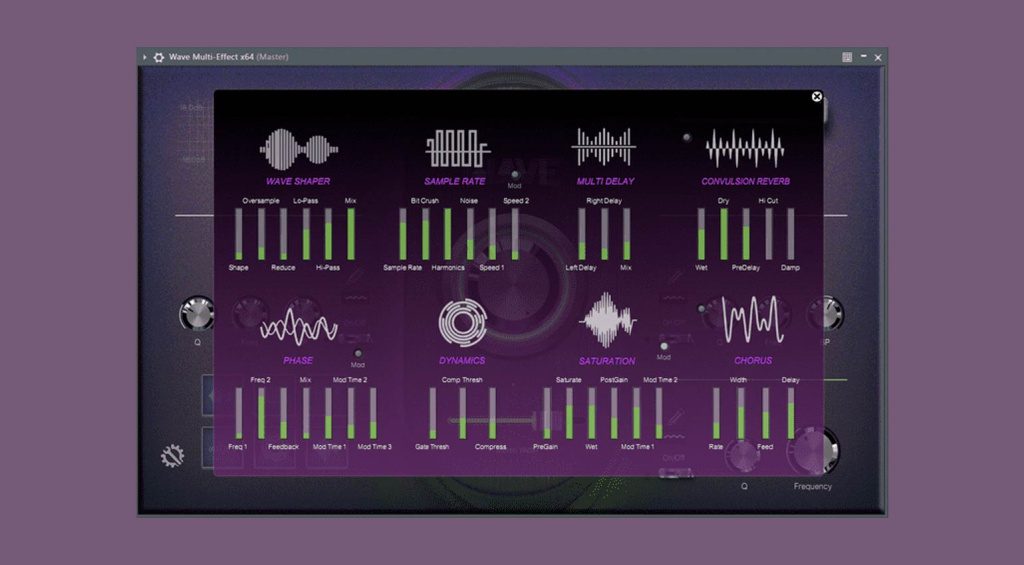 The examples in the demo video below sound really good. Wave isn't revolutionary or anything, but it's definitely a useful plug-in for producing rap, hip-hop, and RnB. It's also a solid release from a fresh developer deserving a bit of attention and support.
Price and availability
Produce-RNB Wave works in 64-bit VST and AU formats under macOS and Windows. Until February 1 2022, you will pay USD 29 instead of the regular USD 89.
More information
Produce-RNB Video
Image Sources:
Produce-RNB Wave: Produce RNB