Behringer Dual Phase Now Available! Clone of the legendary Mu-Tron Bi-Phase has landed.
Behringer's version of the Mu-Tron Bi Phase is finally here!
The Behringer Dual Phase is now available after a lengthy wait. In February 2022 it was initially teased as the Bi-Phase but quickly disappeared from the public eye. Now, it's here, real and ready to ship for only €149
Behringer Dual Phase
UPDATE: November 9th, 2022 – Finally Behringer DUAL-PHASE is here after being introduced to us in February 2022 as the BI-PHASE. Apart from the name, nothing has changed so why the delay? Is it down to the notorious chip shortage in the industry? Could a legal battle behind the scenes also have contributed? Either way, the Dual Phase is now officially available to order with units shipping shortly
Provides possibilities that are simply out of this world. The DUAL-PHASE brings all the amazing features from the original '70s design, plus a few modern ones, that are sure to enhance your pedal board or synth setup. List Price: $159 (in stock and immediately shipping from our factory)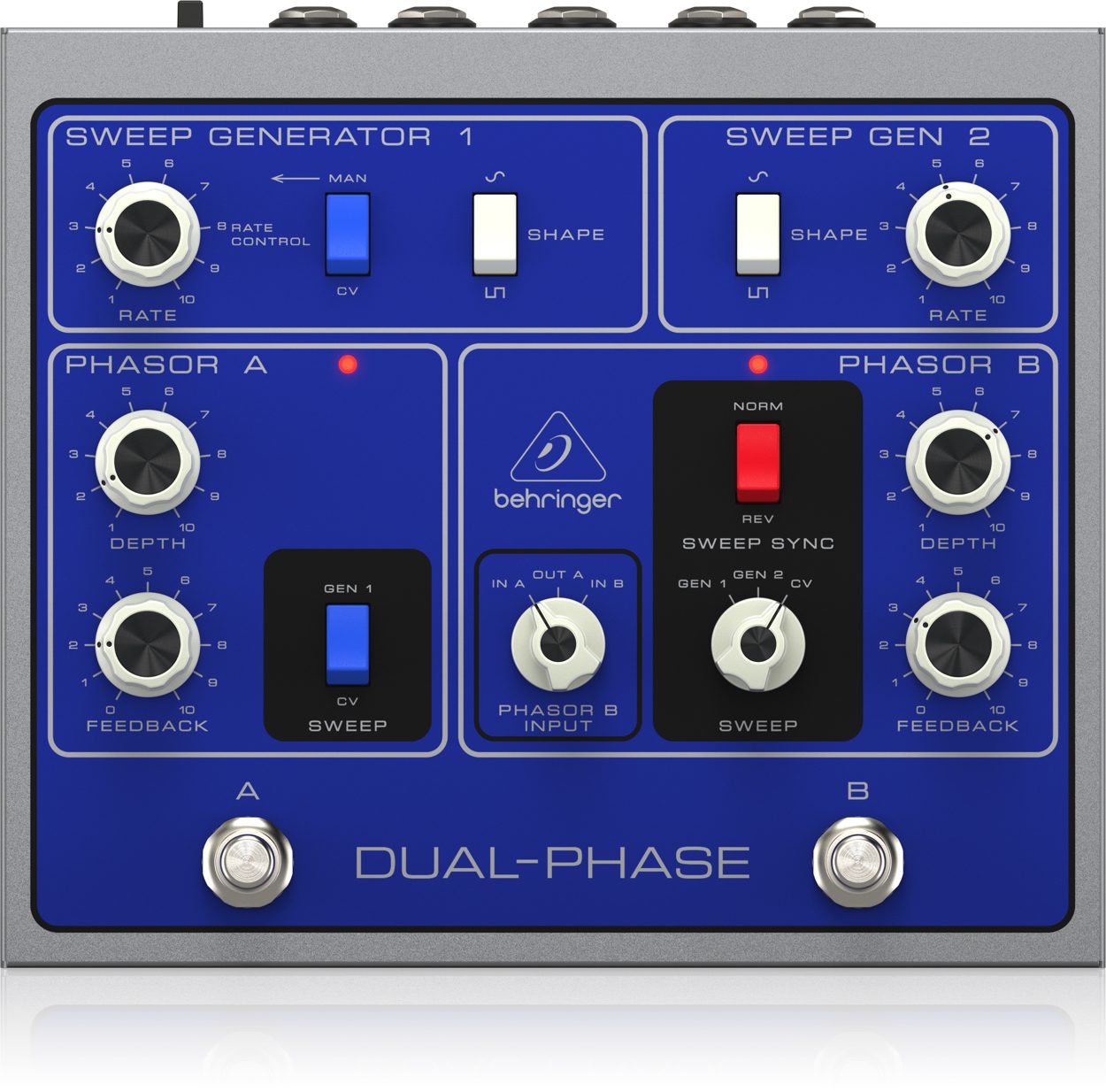 LEAK: February 2022 -Behringer Bi-Phase
We have already seen the Behringer Octave Divider pedal, so we knew that a Bi-Phase clone/recreation would more than likely be next. And it would appear that we were right. The new Behringer Bi-Phase pedal has been spotted online, with two photographs of the actual pedal in question. The thing is, we know that Mu-Tron isn't exactly happy with these Behringer recreations of its work, so this could all get a bit messy if and when it does get officially released.
Clone? Copy? or Recreation?
Behringer's version in the images below looks very similar to the original Mu-Tron Bi-Phase pedal. Even the layout is very similar to those of the original vintage units.
Mu-Tron
I cannot see Mu-Tron being very happy about this latest recreation its classic '70s pedals, and so I am expecting something to appear on the company's official social media soon. With Behringer's previous release, Mu-Tron flat out stated that it was a total copy of its Octavider design, and that Behringer had even used its copy to advertise the Octave Divider.
Mu-Tron Bi-Phase II
Also, Mu-Tron currently has a version called the Bi-Phase II which is still in production. So in theory, this new Behringer model could potentially cut into its sales? This could be an interesting year for both Behringer, as it looks as though we are about to see more Mu-Tron inspired pedals from the brand.
Let us know in the comments what you think about this latest Behringer recreation. Would you buy one if they it was officially released?
More Information on Behringer
Mu-Tron Videos
Image Sources:
Behringer_DUAL-PHASE_2: BEHRINGER
Behringer_DUAL-PHASE_3: BEHRINGER