NAMM 2023: InstaChord strummable electronic chord machine
The InstaChord's revolutionary interface is going to change how we think about music and give us limitless and effortless possibilities. It's a game-changer.
InstaChord
InstaChord is undoubtedly inspired by the Suzuki Omnichord, which is probably the coolest instrument ever invented, so prepare to have your mind blown.
InstaChord sits somewhere between a ukelele and a spaceship. It's an electronic instrument that incorporates many ways of playing, with many styles and genres, a rechargeable battery and a built-in speaker. Complicated, gate-keeping things like strings, frets or keyboards are replaced with fun and engaging buttons. Driven by an easy-to-read screen the InstChord makes it so easy to generate authentic-sounding music that you feel like you are actually playing an instrument.
Seriously?
If I tone down the cynicism just a tad, this does look like a fun thing. It's an instrument you can strum, you can tap and poke it to get sounds. You can pull off strummed instruments and then use it to tap out rhythms and play synth lines and solos. Any musical difficulties are overcome by the chord selections assigned to the buttons. Select a chord with a button press and then play it however you like. The internal sounds come from the SAM2695 chip that has a full General MIDI set and a handful of effects. You don't have to stick with the internal sounds as you have MIDI over both USB and Bluetooth.
The circle in the main body that looks like a speaker is actually a navigation pad for the screen. You can choose from a large library of chords and map the ones you want for your song onto the buttons. InstaChord represents chords as numbers that correspond to the buttons. It has an app or extension for most browsers that will automatically switch chord symbols on text files into the right numbers. You can now play any song on the internet.
Let's play
InstaChord is definitely great for someone who can't play a musical instrument. It's good for beginners or people who are not able to access regular instruments through disability. But even for musicians it could be an alternative way of getting MIDI into your DAW. It's very portable and awesome for busking in the park. What's not to like?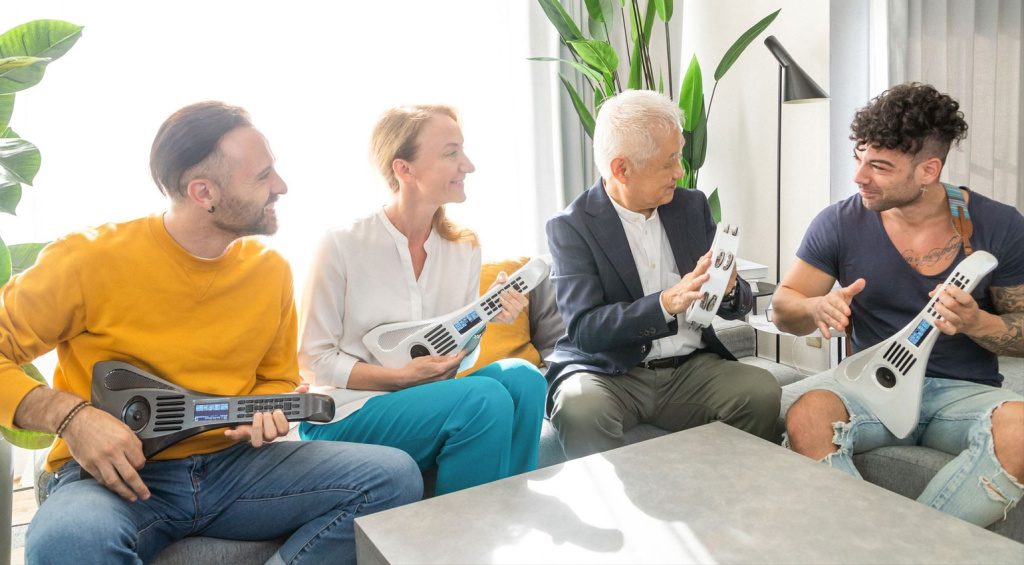 It's already shifted a load of units in Japan and is now on Indiegogo, hoping to appeal to a wider audience. The early bird price is just over £300 which feels a little on the pricy side but hopefully, this reflects the build quality.
InstaChord is at booth #10604 if you'd like to go and try it out.