Harmony H605 Review: A great-sounding boutique tube amp, with a caveat
Announced in August 2021, the H605 is part of Harmony's Series 6. Three amps are offered in the range, the H650, H620 and H605 – each has the number of Watts you'd expect from the name. With retro vibe and boutique styling, this series looks amazing – but what about useability and sound? Brandon Stoner takes the 5W version through its paces.
The first thing I noticed when handling the Harmony H605 is the build quality. This amp is solid all around and feels like it could stand up to the rigors of the road and the studio. And aesthetically, wow! It somehow marries the vintage look that has come back full force with a modern vibe that complements any backline. Unlike some other tube amps, it doesn't seem fragile or brittle. It's also very portable and ergonomic making transport easy. At 19.9"x16.2"x10.6" it is also the perfect sized club amp. This Harmony H605 review will dive in to features and tones across this great little 1×10″ tube combo.
Features
There's plenty of useful stuff here. For starters, the preamp runs on two 12AX7 tubes while the output section runs on a 6L6. There is an attenuator that generally lives at 5W, but can also do 1W. It goes down to .1W, or turns off the speaker altogether. This makes it perfect for bedroom playing, or people who live in an apartment or with neighbors close by. It has a secondary speaker output to power an external cabinet, so if you are not a fan of closed-back cabs you can swap it out for an open-back. Just as well, you can select between 16 Ohm or 8 Ohm impedance.
The 605 includes an effects loop, which is handy for integrating some pedals like delays. Using the footswitch, you can engage the boost, effects loop, and reverb. There is also a line out for direct recording, useful if you want to use impulse responses to get even more mileage out of it. And if you need more grit, you can pull the gain knob for more drive. Smart.
First Thoughts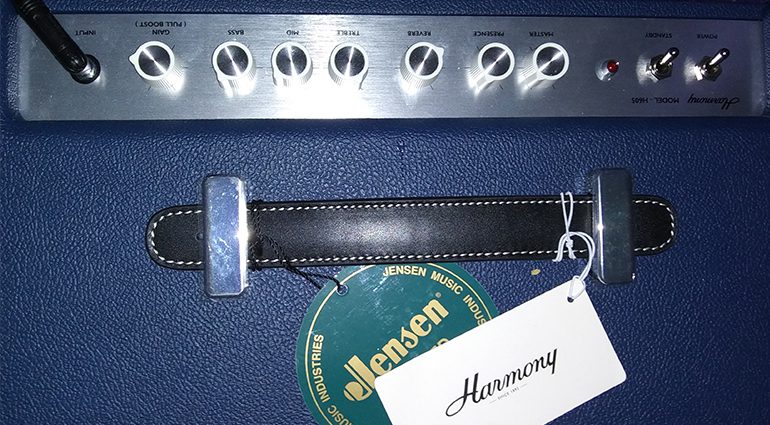 It's got a very tight, focused sound. That's down to several factors, including the closed-back cabinet design. The circuitry really pulls off marrying the midrange British charm of a small Marshall with the front and center twang of a Fender. With the second channel engaged it nails the gritty overdriven sounds of some of the biggest classic rock hits. It works well across multiple types of pickups as well. P-90s have a pleasant high end bite, while humbuckers sound warm and full.
The control plate is very clean looking. It's got the standard 3-band EQ with an additional presence knob. My only complaint is that that text faces backwards if you're standing in front of the amp – which could present some temporary issues if you have to dial it in quickly in a live setting. Nothing too major, but it could be a hang-up in certain situations.
As for the reverb, a little goes a long way. It has much longer decay than a lot of other amps and no setting to control it. Definitely not a bad thing if that's what you're looking for. And it only being 5 Watts isn't a dealbreaker at all, because almost everywhere you play there will be a microphone on the cabinet. It's also very portable and easy to carry.
Things get a little different when you introduce pedals, which we'll get to in more detail a little later on. The sound seems to thin out and become brittle, almost like adding to the signal chain diminishes the true value of what this amp is meant to do – stand on its own. That being said, it would be fantastic in a wet/dry configuration.
How Does It Sound?
I played through all of the presets listed in the manual with a few different guitars – a dual humbucker Les Paul, a Strat with a P90 in the bridge, and a Strat with a humbucker in the bridge – and with and without pedals. I tried to stay true to the recommended settings to hear what Harmony recommends, but did make the occasional tweaks here and there in addition to just playing with the settings freestyle. Let's continue this Harmony H605 review by diving into how it sounds.
Signature Clean
P90 Strat – you can definitely get into classic rock territory here. I backed off of the reverb a bit and bumped the presence up about 1 notch, and the mids and highs to around 2 o'clock. It gets a little shrill doing funky chord partials on the treble strings, but it played well with volume and tone control. Backing off of that a little reduced it. But for chords lower down, like cowboy and power chords, this guitar and amp are a match made in heaven. And when you factor in strumming dynamics it was breaking up beautifully.
Les Paul – This type of guitar is a little less at home at this setting. Les Pauls aren't renowned for being used for cleans, but you can certainly get some bluesy sounds out of it. Believe it or not, it sounded the best on the bridge pickup – which in my experience at clean setting is the least useful. But when played fingerstyle the amp really came alive! Warm and round without being muddy on each pickup setting (middle was the best, which is usually is with a Les Paul) with a pleasant top end to boot that just sounded right.
Humbucker Strat – This one actually sounded the best! It wasn't as thin as the other Strat, or as meaty as the Les Paul. It found the perfect place in between. The pickup is a Seymour Duncan Invader too, which you wouldn't think would work. I didn't even change any settings other than pulling down the reverb. Riding the volume knob was all it took.
Edge of Breakup
P90 Strat – This meshed really well with the pickup. It was great across lots of different styles but is right at home in classic rock territory. The manual says to set the attenuator at 1W but when you put it up to 5W it really cooks. It could definitely hang in a band situation where not every instrument is mic'd.
Les Paul – This setting didn't really sit with a mahogany Les Paul. It has that tubby, unpleasant mid-low thing going on that a lot of people complain about with Les Pauls. If you roll off the volume knob on the bass pickup it does get a really warm, inviting sound that's great for single note lines.
Humbucker Strat – Considering this has guitar has the Invader pickup I mentioned above, with this pairing it was a little more than edge of breakup. But it sounded great. Classic rock, hard rock, even into more modern styles like Foo Fighters and Green Day. It all just kind of…worked. I even altered some of the settings a bit, but it wasn't because they needed it. It was more fine tuning than anything.
Dynamic Lead
P90 Strat – This setting and guitar didn't really work that well. It was a little thin and anemic sounding. Even when I played with the bass and mid controls it just never really got me there.
Les Paul – As the name probably would imply, this setting is perfect for a Les Paul. The neck pickup had a smooth sound that is perfect for heavier styles, and on the bridge pickup you can definitely get into punk rock territory.
Humbucker Strat – This guitar and setting is perfect for punk rock. If you play with the midrange and presence you can get right into spot-on Marshall tones. When I rolled down the volume knob it cleaned up really nicely.
Ambient Dream
P90 Strat – This is probably the most unique setting. The master is full-on with the gain at around 5 o'clock. It didn't really work with this guitar no matter how I altered the settings.
Les Paul – Again, this setting sounded fantastic with the Les Paul. Especially on the neck and middle pickup positions. It had crunch but not too much, this setting is really about pushing the power amp.
Humbucker Strat – Ambient Dream also sounded great with this guitar, though not as good as the Les Paul. My guess is the name is a play on Dream Theater as it has a "Petrucci vibe". I would love to hear what it sounds like with one of his Music Man guitars.
Pedal Problems
Now for the downsides. Running pedals into the front end did not work very well for me. It seems to really thin out and even when tweaking the settings on the pedals and amp it just seems to have lost its tonal charm. I tried it with multiple configurations, reduced the amount of pedals and my results were the same. I even tried running a simple Tubescreamer and came to the same conclusion. Your mileage may vary.
However, when running them all through the effects loop it seemed to open things up a bit. This isn't ideal for certain pedals, like gain and filter pedals. To me, this goes to show that the amp is meant to stand on its own. This in no way diminishes how good the amp sounds and the benefits that it offers.
Lastly, my only other complaint is that the control faceplate faces backwards – hard to dial in if you're standing in front of the amp. Most players twist knobs while standing in front of the speaker because you can much more easily tell what effect the settings changes are having. I've never actually seen an amp's design layout this way. Harmony clearly had their reasoning for this so it is what it is.
Final Thoughts on the 605
At around $550-$650 (depending on where you purchase it) the H605 proves itself to be worth every penny and more. It certainly won't fit the sound that every guitar player is looking for, but few – if any – amps really do. But it is a fairly versatile amp that offers the chime of a model like the Vox AC series, the powerful midrange of Marshall, and the sparkle of a Fender all rolled into one. It is very responsive to the articulation of your playing so that your individual guitar personality has no trouble shining through it. It works across a wide variety of genres and sounds good with all types of guitars and pickups. And after all, that's something that the best amps of all time all have in common.
Series 6 Videos
Image Sources:
Harmony Series 6 amps: Harmony
Switchable analog effects: Harmony