Behringer Xenyx 502s and 802s USB Mixers: Tiny size & tiny price!
If you're looking for a compact and affordable way to get into recording and podcasting, then the Behringer Xenyx 502s and 802s could be the answer! These USB mixers are not only tiny in size but also tiny in price…
Xenyx 502s and 802s USB Mixers
Behringer's Xenyx range of compact mixers has become the "go-to" choice for value analogue mixers. Now, Behringer has added the Xenyx 502s and 802s USB mixers to the range. If you're looking for a simple, convenient way of getting analogue sources into your computer, then look no further!
Both mixers offer a combination of XLR microphone connections, line inputs via 1/4″ and RCA connectors and both analogue and USB master outputs. The Xenyx 502s and 802s are extremely useful for basic level matching, EQing, mixing and of course, recording and podcasting. The A/D conversion via USB is fixed at 16bit 48kHz; for the price point and intended audience I don't see that as an issue.
Both mixers offer a different feature set, so let's dive in and see what's what…
Xenyx 502s
The Xenyx 502S is the bare bones of what you need for recording an audio source. You have five inputs in total:
Channel 1 offers you a microphone or mono, line input. No phantom power is offered so you'll have to be content with using a dynamic microphone.
In addition to the gain and level controls, you'll also find a 2-band EQ and a stereo pan control.
Channels 2 to 5 are reserved for line sources with control over the master level and pan only
All analogue sources are summed to 1/4″ jack, RCA and USB simultaneously via the master bus. Additionally, you get a headphone output which allows you to monitor the master bus or the streaming output at the push of a button.
Overall then an ideal entry-level solution for solo podcasting, streaming or recording.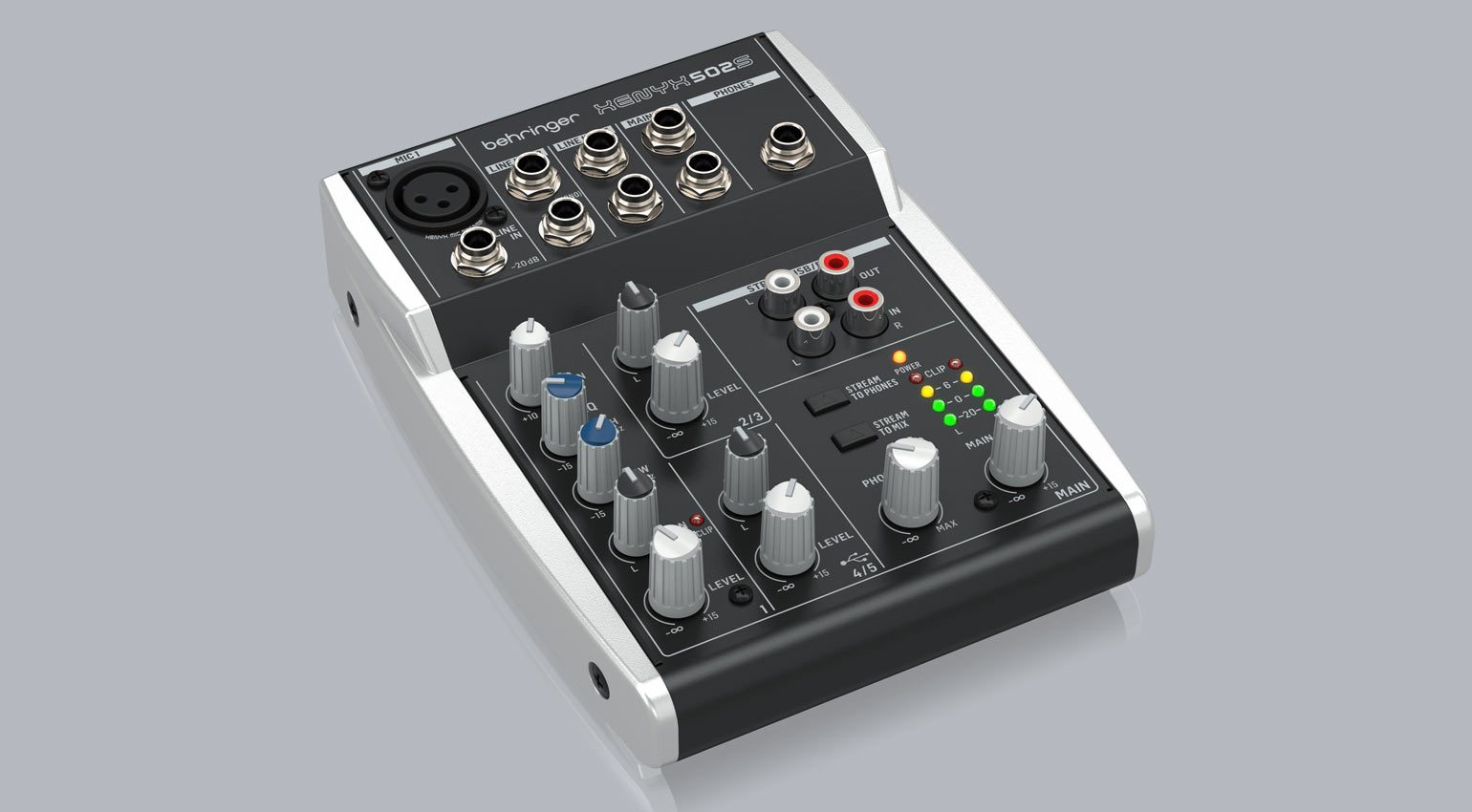 Xenyx 802S
The Xenyx 802S offers more inputs and more functionality. If you're looking to stream, record or mix multiple microphone sources then this is the one to go for.
You now get eight inputs in total with the very useful addition of phantom power, allowing you to use condenser microphones.
Channels 1 & 2 offer microphone or mono, line inputs
Channels 3/4 & 5/6 are stereo line input channels, ideal for keyboards and other stereo sources.
All the above channels offer you a 3-band EQ, pan and level control as well a separate FX send via 1/4″ output.
Lastly, channels 7/8 serve as a stereo channel for either the RCA line inputs or a return from the USB audio stream.
Monitoring is provided via the main output or headphones and as per the 502S, buttons switch monitoring from "Stream to Monitor" or "Stream to Mix".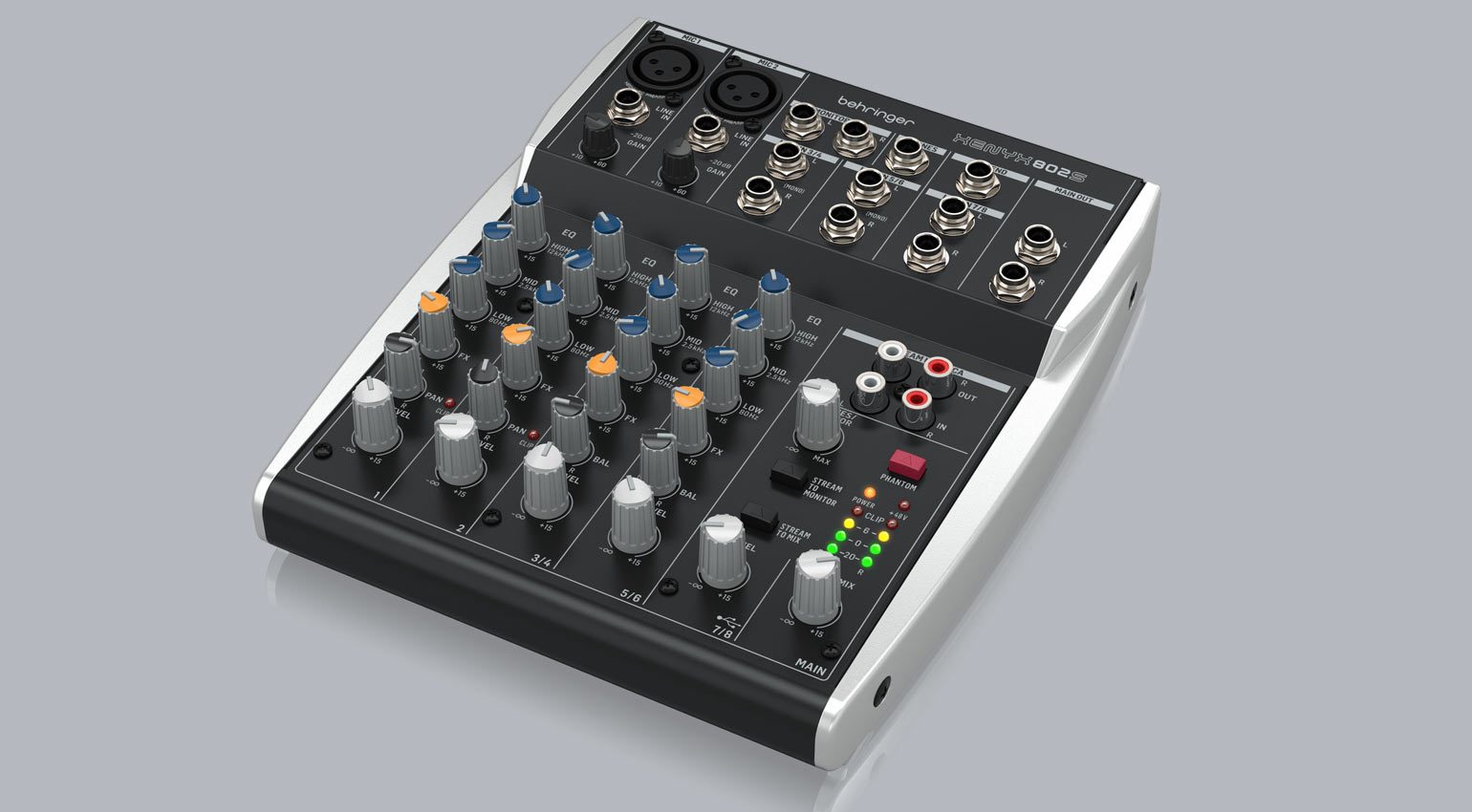 Tiny Size, Tiny Price
Are these mixers going to set the world alight with innovative new features? Well, no, of course not! However, the simple 'notepad' mixer has long been a studio essential for many of us. Equally, if you're looking for your first recording solution or a cost-effective streaming/podcast unit, then look no further.
I have no doubt that at this price, and with the solid reputation of Behringer's Xenyx mixers, the Xenyx 502s and 802s will be keen sellers. Interested in adding a mixer to your studio? Then check out our list of the best compact analogue mixers for your studio.
More Information