Behringer Pro VS Mini – UPDATE: Firmware 1.1.2 released
Behringer's Pro VC Mini delivers desktop vector synthesis at a knockdown price. With the new Firmware 1.1.2, Behringer adds enhanced functionality to this mini vector synth. 
It was February of 2022 when our own Robin Vincent reported on the announcement of the Pro VS Soul, as it was known back then. There wasn't much info to go on, but Behringer did allude to the price being $99. They also teased a Eurorack version.
So it is with some surprise and a sigh of relief that the instrument is now available to buy! And all credit to Behringer for sticking to that price. What hasn't changed is the form factor which is going to take a little getting used to. But if you compare it to the prototype we saw last year, it seems to have been a little refined.
UPDATE: November 14th 2023
Behringer today announced a new firmware update for the Pro VS Mini. Version 1.1.2 now includes two CC numbers for the LFO Waveforms, namely CC 54 for LFO 1 Waveform and CC55 for LFO 2 Waveform. This allows the LFO waveforms to be changed by an external source. This update also fixes a couple of bugs. Saving of the LFO 2 waveform preset is now functioning as expected as is SysEx parsing for the LFO and MIX ENV settings.
Pro VS Mini owners can upgrade to this new firmware using Behringer's Synthtribe application for Mac, Windows and iOS.
Vector Specs
Let's take a little look at the specification. The Pro VS Mini has 16 vector oscillators with 128 waveforms. This, they claim, is an authentic reproduction of the Prophet VS sound engine. The four selected oscillators are morphed by using the Playstation-esque joystick. Filtering comes courtesy of a 24db low pass filter with its own envelope. There is also a separate envelope for the amp section with an oscillator mixer. Two LFO's deliver modulation of both the filter and oscillator tuning. A "Studio-Grade" chorus helps beef up the sound.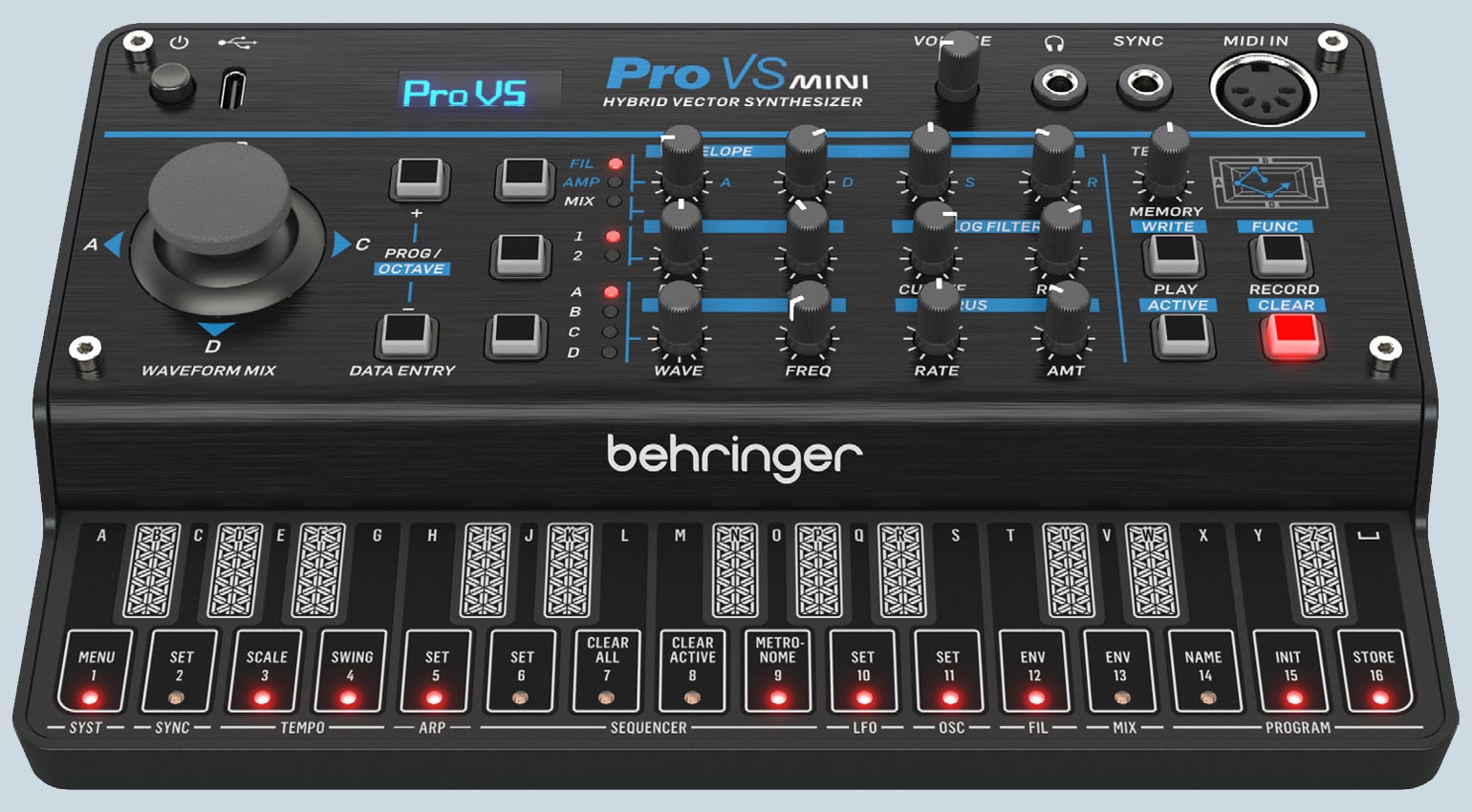 Performance Vectors
From a performance perspective, the Pro VS Mini has a limited 16-step sequencer and an arpeggiator with three patterns. The touch-sensitive keyboard is very reminiscent of those found on Modal's SKULPT or CraftSynth 2.0. Keys double up as feature selection buttons and letter entry for patch naming. Connectivity features a 5-pin DIN MIDI IN port, Sync, headphones and USB-C for power. It'll be interesting to see if it suffers from the dreadful ground loop noise inherent in most USB-powered devices.
A very small OLED screen provides visual info and feedback.

More Information
Behringer published a new demo video and to be fair, it sounds good. If this gets close to the original, it will be the bargain of the year. Original VS's are rare and highly sought after. Personally, I'd be hooking this up straight away to a proper MIDI controller. Watch out for our in-depth review coming soon!
Also, does the 'Mini' moniker hint at a 'Maxi' version in the future?
Image Sources:
Behringer Pro VS Mini: Behringer
Behringer Pro VS Mini: Behringer