Harley Benton GS-Travel-E Bass: Mahogany & Spruce for on the go
Two great value bass models announced by Harley Benton
Harley Benton has just released the GS-Travel-E Bass Mahogany and the GS-Travel-E Bass Spruce, two compact acoustic basses that were developed for bassists who value mobility.
Harley Benton GS-Travel-E Bass
Both models feature a Mini Travel Grand Symphony format, with a C-shaped neck made of Okoume and a Purple Heart fretboard. The bone nut and the Purple Heart bridge that matches the fretboard, together with the black DLX die-cast tuners, ensure reliable tuning stability. The stylish matt satin finish suits both versions nicely.

Preamp
For amplification or direct connection to an amp, mixer, or audio interface, both models are equipped with an HB-03 preamplifier and an integrated tuner.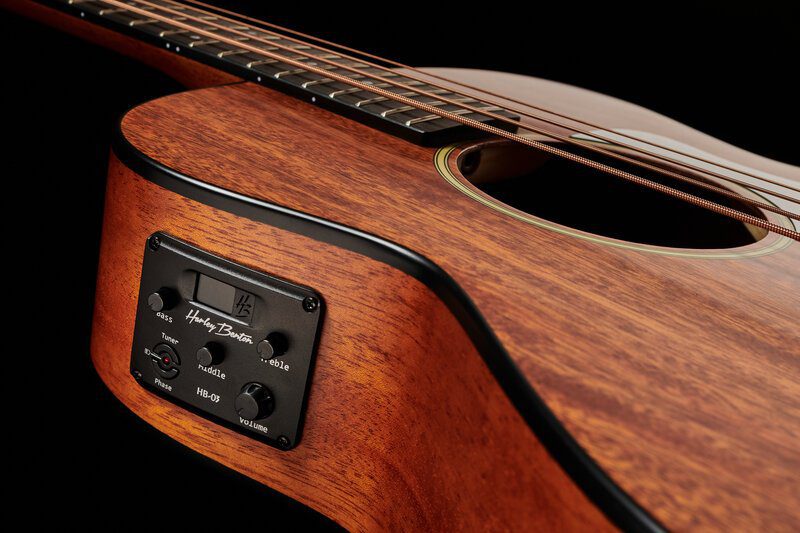 Mahogany vs Spruce
The main difference between these two variants lies in the body tops: The GS-Travel-E Bass Mahogany offers a warm and rich tone with its mahogany body, while the GS-Travel-E Bass Spruce with its top made of selected Sitka spruce and the body Sapele has a bright and resonant character.
If you want to deepen your portable bass experience, you can combine these models with the recently released DNAfx Bass Mobile from Harley Benton. Both models come with gig bags and can be pre-ordered now.

Verdict
The Thomann in-house brand is certainly becoming a firm favourite of musicians looking for quality gear at great prices. These new 23.5-inch scale bass models could be perfect for many applications, including beginners, or those with smaller hands. Plus, the travel aspect of these models is also very appealing.
I really can't complain about the price point, especially as they have a built-in preamp and that onboard tuner.
Harley Benton GS-Travel-E Bass – EUR 169 *


Harley Benton GS-Travel-E Bass Spruce


Harley Benton GS-Travel-E Bass Mahogany
More Information
* This post contains affiliate links and/or widgets. When you buy a product via our affiliate partner, we receive a small commission that helps support what we do. Don't worry, you pay the same price. Thanks for your support!
Image Sources:
harley-benton-gs-travel-e-bass-mahagony_1-e1700146814471: Thomann
harley-benton-gs-travel-e-bass-mahagony_2: Thomann
harley-benton-gs-travel-e-bass-spruce_1-e1700146880523: Thomann