IK Multimedia iLoud Precision: Studio monitors with DSP and correction
According to manufacturer IK Multimedia, the new iLoud Precision series studio monitors are assembled in Italy and compete with more expensive offerings in terms of sound and room correction options. The three new models combine IK's latest DSP technology with a new electro-acoustic design. This makes it possible to offer the best performance for speakers in this price range, says IK, with added perks like built-in ARC room correction.
IK Multimedia iLoud Precision monitors
The series consists of three models – iLoud Precision 5 (5-inch woofer, 30mm tweeter, 135-watts RMS), iLoud Precision 6 (6.5-inch woofer, 30mm tweeter, 150-watts RMS), and iLoud Precision MTM (dual 5-inch woofers, 30mm tweeter, 175-watts RMS).
Apart from the size / number of woofers and the wattage of the Class D amplifiers, there are not many differences between the speakers. So all models in the Precision series share the real phase and time coherence, along with highly linear frequency response. All three models go from 45 Hz to 30 kHz, promising transparency and accurate audio reproduction.
The integrated room correction is based on a fully automated system for calibration. It's called ARC System Technology and has its DNA in the desktop software of the same name. Hence, a measurement microphone is included and connected directly to the loudspeakers. The monitors do the rest of the calibration independently. Also available are buttons for LFE, LF and HF filters, as well as DSP presets. The digital system control takes place with an internal sampling rate of 96 kHz.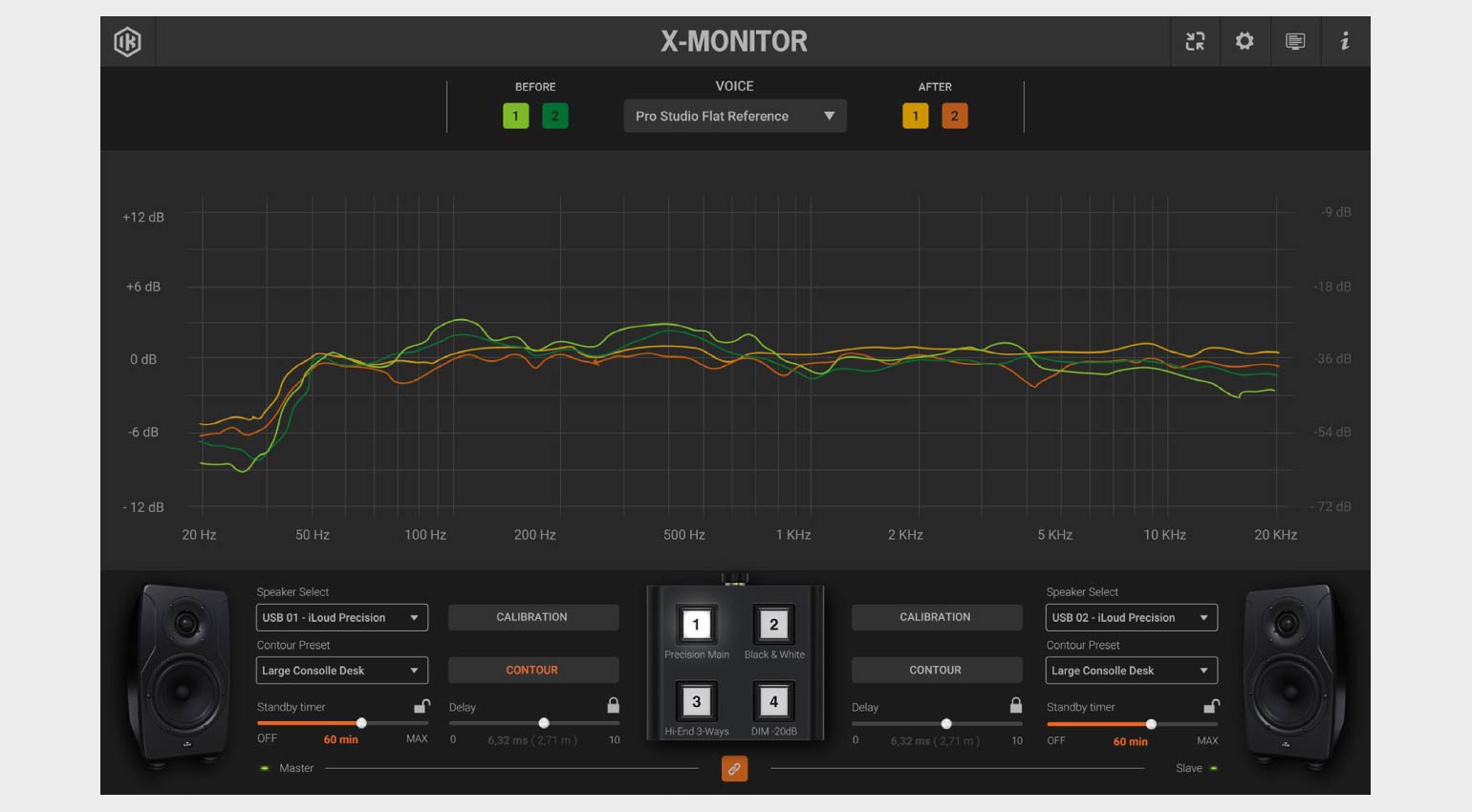 Additional customization is available with the IK Multimedia X-MONITOR software for macOS and Windows. The latter will be released in October. It emulates the frequency and phase response of the most popular studio monitors on the market. An optional wired remote control lets you switch between different profiles during listening.
If you want to use the monitors in a setup for surround or immersive audio, you get some options for low and high frequency management. This also includes a low cut for different frequency ranges. In addition to the measurement microphone, four iLoud isolation pods are included with the speakers.
Price and availability
The iLoud Precision monitors can be pre-ordered already:
Learn more
* This article contains affiliate links to help us fund Gearnews. If you buy something through these links, we will receive a commission. Don't worry, the price for you always stays the same. Thank you for your support!
Image Sources:
IK Multimedia X Monitor software: IK Multimedia
IK Multimedia iLoud Precision 5: Thomann
IK Multimedia iLoud Precision 6: Thomann
IK Multimedia iLoud Precision MTM: Thomann